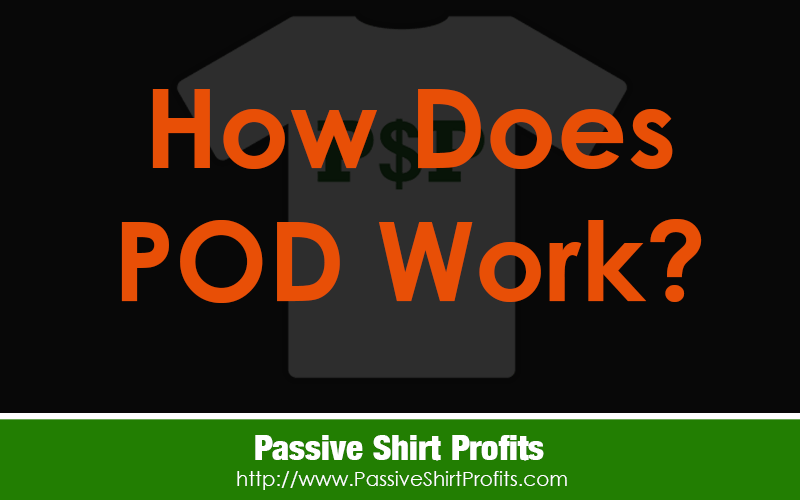 Print on Demand sites pay you royalties when products are sold that contain designs you create.
The best part is you do not have to deal with any inventory or customer service. It can be a completely passive model because the POD companies handle the printing and shipping.
All you do is upload your designs and add them to products. Your royalties depend on the price you set.
Some programs such as Merch by Amazon, only sell shirts. Others like RedBubble and Zazzle allow you to place your images on a variety of different designs such as hats, mugs, tote bags and more.
Setting Your Prices
Some PODs allow you to set a fixed price for your royalty, others let you select a percentage.
For example, on RedBubble, if you set your percentage to 15% on T-shirts then you will earn a 15% royalty on any style of T-shirt that is sold.
Do You Need a Website or Audience to Earn?
No, you don't.
Most POD sites have their own marketplaces so your designs can be found when visitors use their search engines.
To capitalize on those organic sales, you want to figure out what type of designs their visitors like. Not all designs convert well on every marketplace.
However, if you want long-term success and income stability, it's always best to draw your own traffic to your merchandise.
If you get into Merch (by invitation only), you can capitalize on Amazon's billions of visitors per month, and your designs can be found without any marketing due to their sheer volume or organic searches every month.
In the first 5 months of 2017, I've earned over $15,000 with Amazon alone and have designs on many, many different topics and niches.
Here is one of my record weeks thus far…

Yes, that's the earnings from only 7 days and I was only on the 25 tier (meaning I had 25 slots.)
(Merch's earnings report defaults to the last 7 days so that's why you typically see weekly earnings on people's screenshots.)
As great as those earnings may sound, I try not to get too complacent or comfortable.
Because I tend to focus on trends a lot, sales can be high for a week or two then drop off again.
My highest check has been for $6,000, but the following month it dropped by 20%.
It's like a roller coaster, but I'm enjoying the ride!
The earnings below are more typical of what I earn every week…


It's a GREAT and very rewarding income supplement, but never something I'd want to rely on.
At the time I'm updating this page (June, 2017)…
I'm on the 500 tier (meaning I have 500 t-shirt slots)
I have 250 or so designs up
Roughly 60-65% of my designs have sold at least once
Average monthly earnings ($3000 – $4500 per month in 2017)
I have been in the program since October 2016
I sold my first shirt within the first week and it was Halloween related
Here are my first two weeks on Merch at the 25 tier (25 uploads). Today you start at 10 uploads (that changed January, 2017.)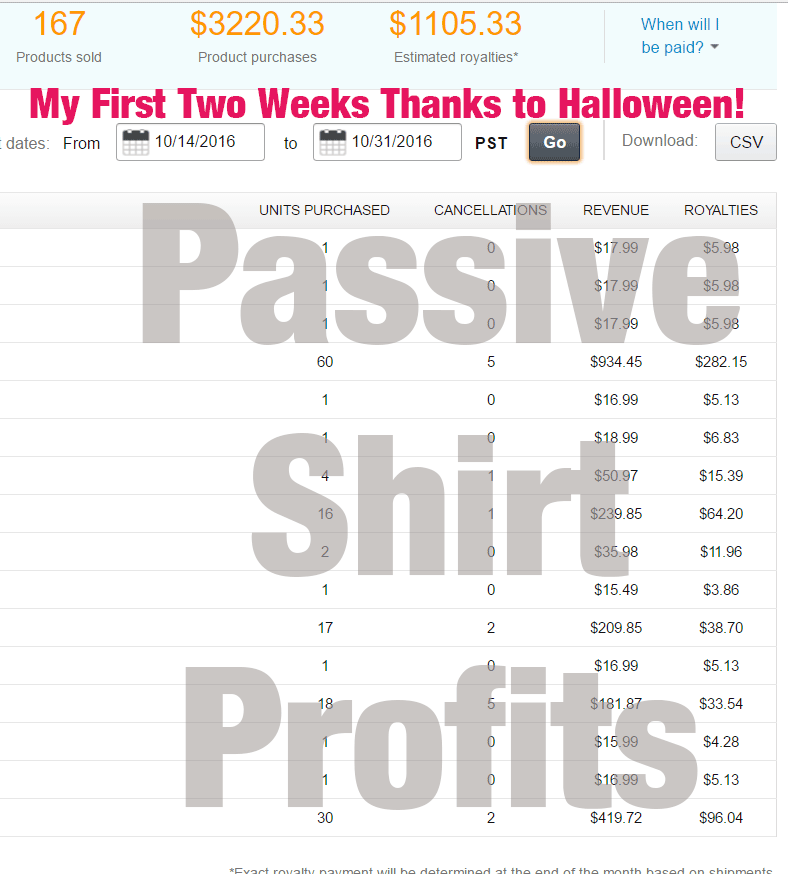 When you join Merch, you get 10 slots/uploads. After you sell 10 shirts, you are eligible to move up to the 25 tier (slots/uploads), then 100, 500, 1000 and so on.
My keys to success have been…
Spending lots of time designing and researching (3-4 hours per day)
Learning Photoshop and Illustrator
Creating funny/witty/punny designs
Working the trends (Ignore the advice about avoiding them when you're new. That's what helped me sell a lot.)
Using original concepts/ideas and expanding the same idea to multiple topics and niches (especially since I've been on a higher tier)
Download My Guide
I put together a getting-started guide that will help you learn more about software and having success with POD. It's perfect for newbies.
Need Action Steps?
There's also an online guide you can follow with actionable steps you can do NOW.
Ready to Learn?
Enroll in my courses and learn the basics of print on demand, Photoshop, keyword research and so much more.