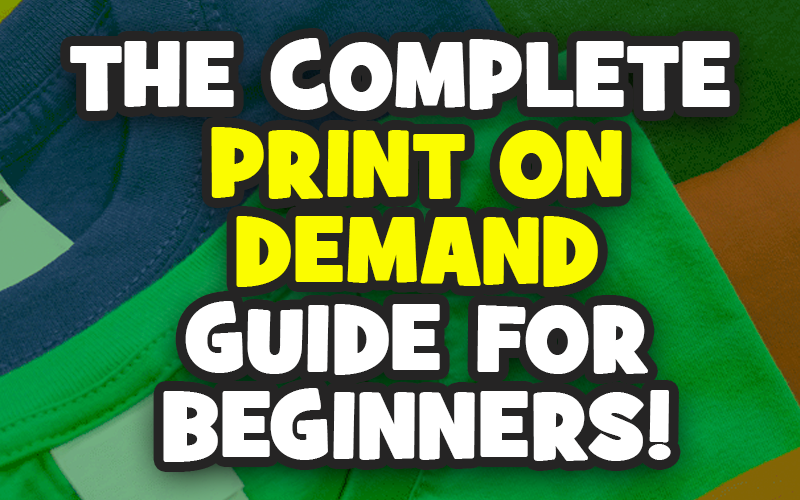 Welcome!
If you are brand new to print on demand, the journey can seem daunting and overwhelming.
Have no fear!
I'm going to break down everything you need to learn and clear up any confusion you may have about starting this business.
Table of Contents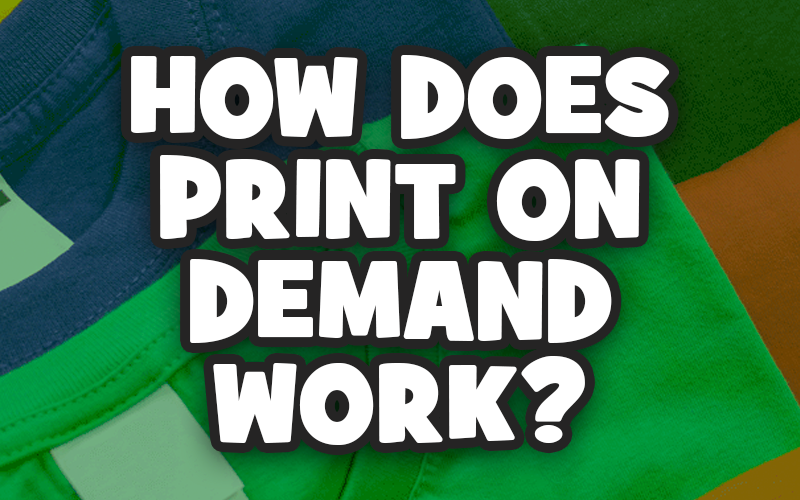 The concept is super simple!
You create the digital art and upload it to the print on demand site of choice.
When a product with your design sells, you earn a royalty.
The company handles all the printing and shipping and they send you a payment each month.
There is no cost to start with print on demand.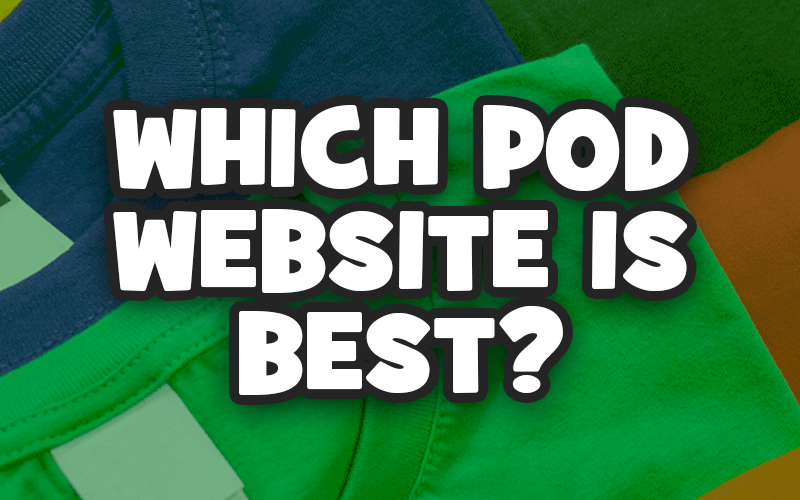 Best is certainly relative.
In terms of traffic and income potential, no print on demand website beats Merch By Amazon (recently changed to Amazon Merch on Demand) in my opinion.
This is my favorite because I have earned 4 figures per month consistently since 2016.
The catch with Merch By Amazon is you must apply, and not every application gets accepted. They have really limited the amount of people they accept lately.
Some have suggested to share your design experience on the application to help with approval, however, that doesn't always work.
Some believe they tend to favor active Amazon shoppers. If you shop on Amazon a lot, be sure to apply with the same email associated with your account. Also, if you are an active Amazon affiliate, that may help too.
Hopefully you can get in because the earning potential is worth learning the system.
If you cannot get into Merch By Amazon, there are plenty of other print on demand sites…
There are others, but the ones listed above are the most popular by far. You should be able to find niches to sell on at least one of these websites.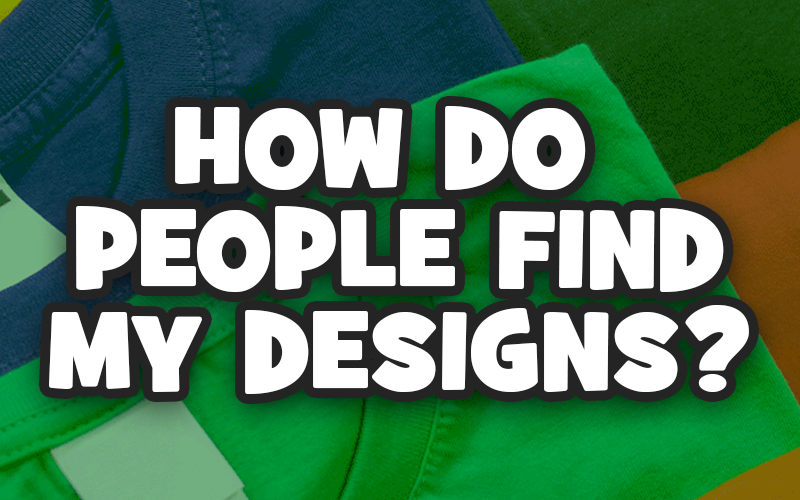 The good thing about print on demand (compared to a self-hosted store like Shopify, for example) is they have their own traffic.
They also market to their customers through social media and email. That means there are several ways for your designs to get found without you needing to advertise.
The key is to find keywords or niches that customers are looking for.
How well you understand keywords will directly determine your success with print on demand.
A lot of people assume it's only design talent that matters.
But a very simple text design can make you thousands if you create the right message to the right audience at the right time.

The above shirt is one of my top 10 text shirts on Amazon of all time.
It's an English teacher shirt with a funny saying that sold mostly between 2017 and 2019.
As you can see from my Pretty Merch Pro report, this simple text-only design has earned me $2611 in royalties.
I was the very FIRST person to come up with this phrase.
I knew that teacher shirts sold well on Amazon, so I researched the different sub-topics (English teacher, for example).
I came up with a quote that I knew would resonate with English teachers, and for several months, it was selling almost daily.
I didn't have to do any promotion. The design was found by ranking on Amazon for various English teacher keywords.
Even though paid advertising and social media is not necessary, it's not a bad idea to diversify traffic beyond the print on demand marketplace.
More on my favorite external traffic source later.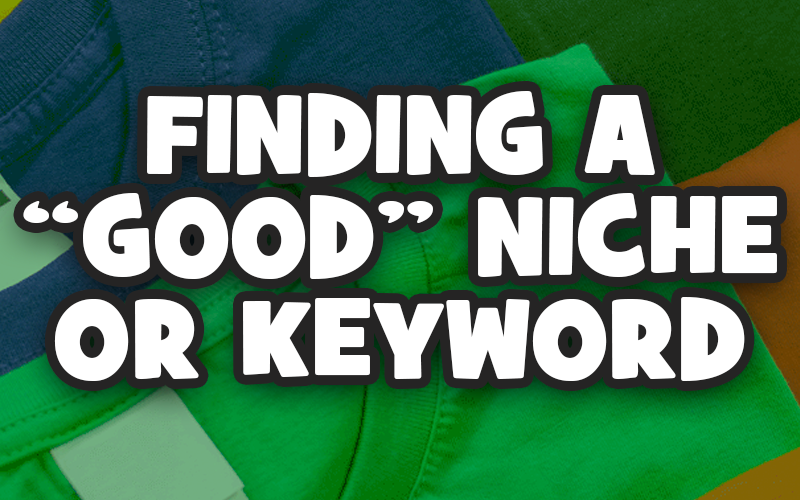 In order to get free traffic, you need to understand how to create product listings that get found.
This is where a lot of people get stuck, so pay close attention to these next couple of sections.
It's all about keywords and niches!
A keyword is simply a phrase that someone uses to find a shirt or product.
It can be something as broad as teacher shirt or as specific as 4th grade Math teacher shirt.
Teacher shirt is a broad shirt keyword.
4th grade Math teacher shirt is a niche shirt keyword.
The more specific the keyword is, the less competition there will be. So when you are looking for keywords, you want to find niches.
If I type in "teacher shirt" on Amazon, there are over 30,000 results.
It would be very difficult for you to get any traffic to a new shirt just targeting that phrase only.
However, if you look at the results for 4th grade Math teacher shirt, there are fewer results – only 632.
These are the kinds of keywords or niches you want to target.
We refer to these as "low competition keywords."
Now, here's a very important point…
Not all low competition keywords are actually "good" keywords.
Sometimes you can narrow down too far, and there won't be enough customer demand for that phrase.
For example, if you happen to find a keyword with 30 results, that could mean there isn't anyone searching for that keyword.
The great thing about Merch By Amazon is they publish data called the BSR – Best Sellers Rank.
This gives you an idea for how well a particular product is selling.
You can find this at the bottom of every shirt listing (after you click the shirt in the results.)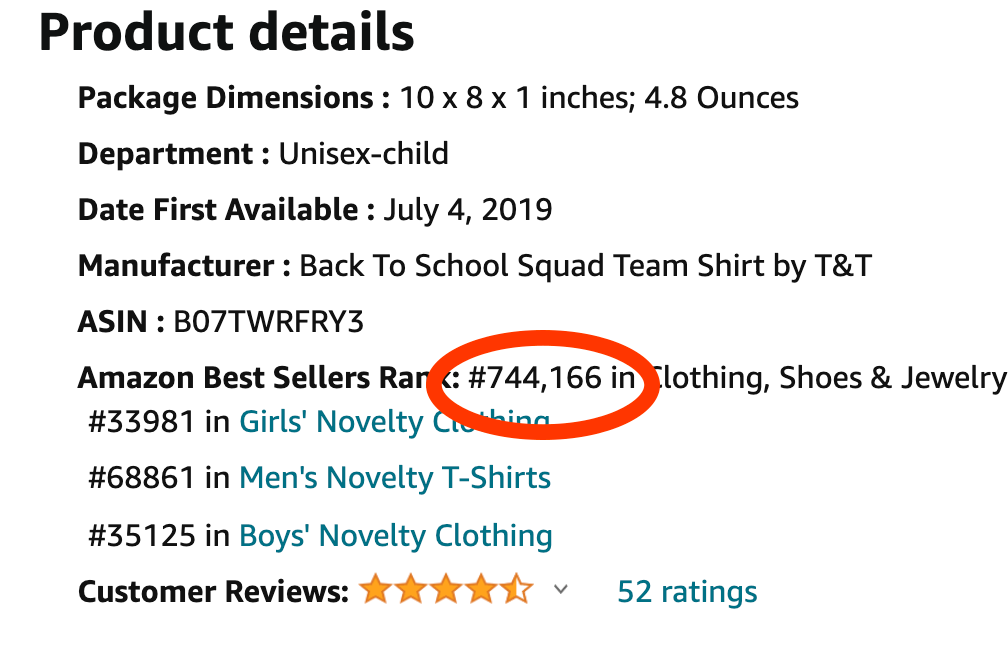 The lower the number, the more recently the product has sold.
And if a BSR stays at a very low number (at or below 100,000) then that means it's either selling multiple times per day or at least once per day.
The BSR value carries different weight and sales frequency info depending on the product.
For example, MBA has a lot more T-shirts published than phone cases.
A 100,000 BSR value for a T-shirt means that it's selling a lot more than a 100,000 BSR value for a phone case.
In other words, it's a lot easier for a phone case sale to lower the BSR because there are fewer products in that category.
T-shirts are the most popular Merch By Amazon product available, so it takes more sales to lower the BSR.
An easier way to check the BSR is to install the Chrome browser extension called Amazon DS Quickview.
This will allow you to see the BSR at a quick glance without clicking the individual products.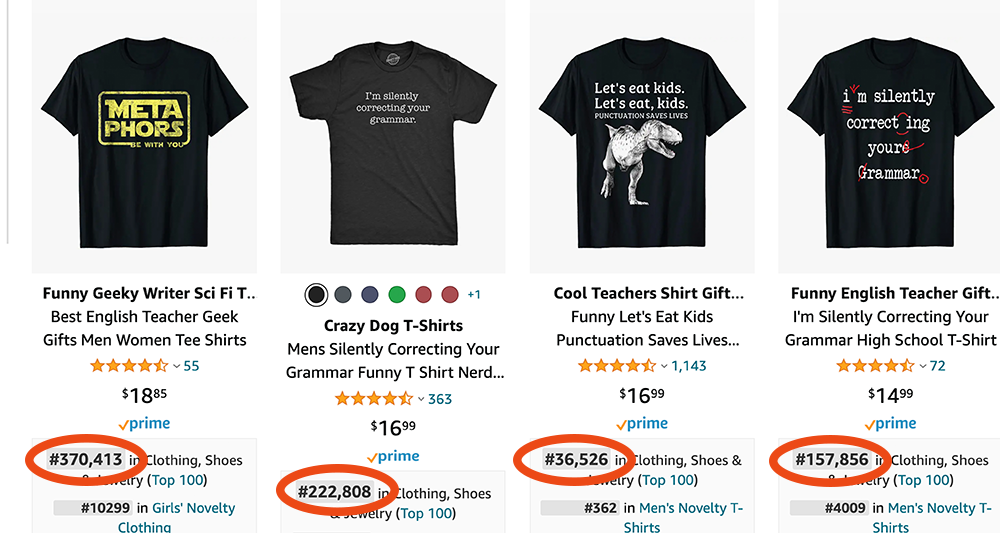 The BSR is great for gauging demand for particular keywords and niches.
Check out the video below where I show you how I use a free keyword tool to locate lower competition keywords.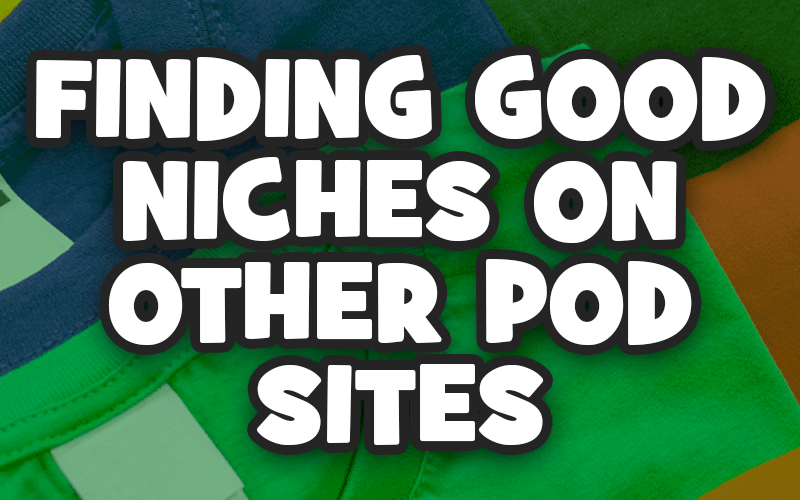 Amazon is the only print on demand site that actually publishes detailed data about how well a product is selling.
This can make it trickier to find "good" keywords and niches on other sites.
However, there are clues you can use such as…
Number of search results for a query
Best sellers (if published)
Categories & topics featured on the homepage
Search box autocomplete
Let's dive into an example on a different print on demand website so you can get a clearer picture of what to do.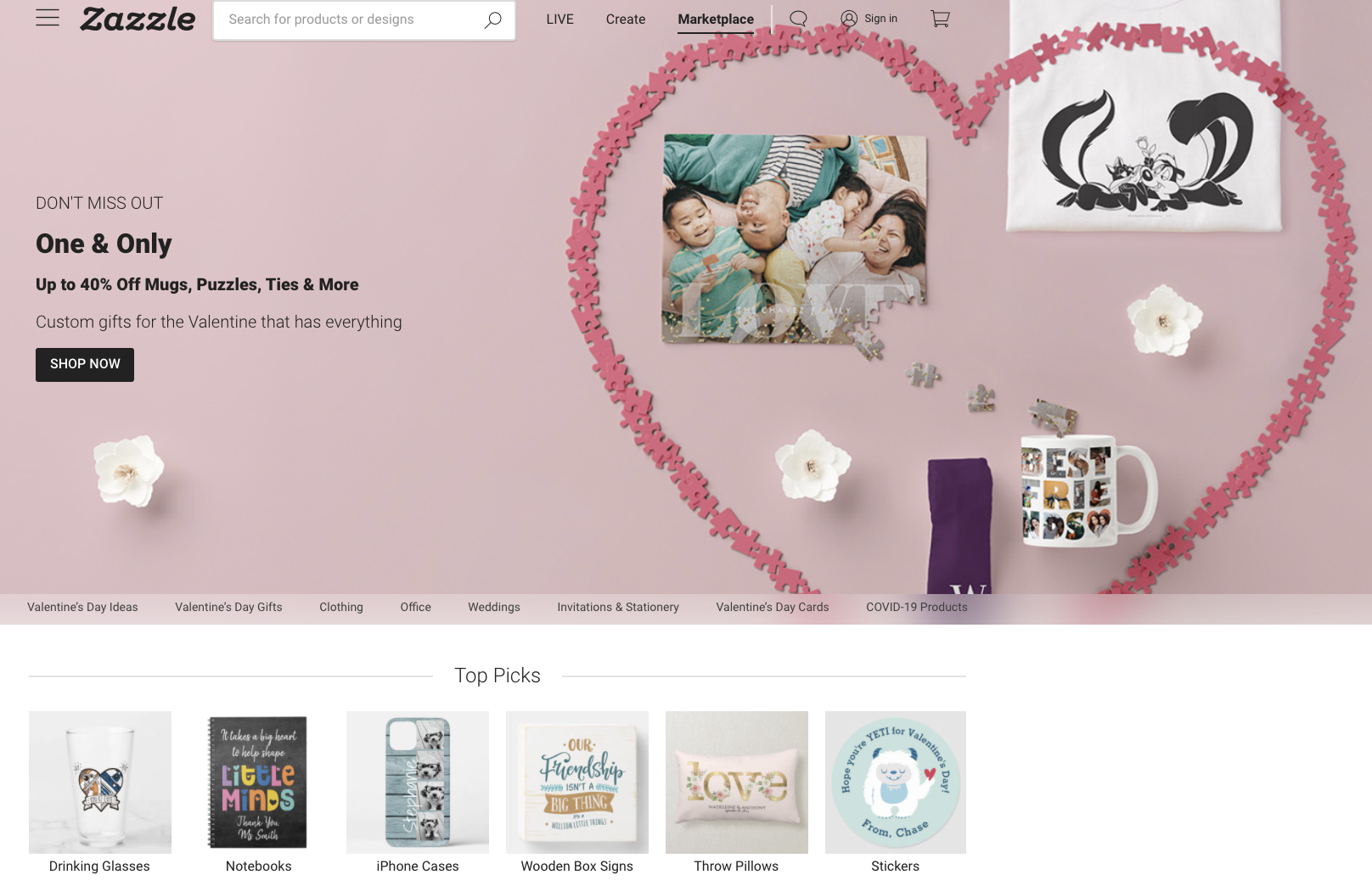 Zazzle is a print on demand marketplace with lots of traffic from women looking to buy greeting cards, invitations and baby-related products.
Knowing what type of customer the website serves, is a big part of selling. It's important to know who shops there and what they like to buy.
I have not sold a ton on Zazzle, but most of the products I have sold thus far have been related to greeting cards and invitations.
If you look at their homepage, this should not come as a big surprise.
The print on demand company tends to highlight either the product or topic they sell the most on the homepage.
Cards and invitations are always highlighted on Zazzle because they sell well.
I know these may seem like very low-earning products, but remember, many people buy invitations in bulk.
Let's use some of the clues I mentioned above to determine a good keyword for Zazzle.
We'll use the autocomplete feature.
As you begin to type in the search box, the website will autocomplete your query with popular terms customers use.
If I start to type in valentine… on Zazzle, the autocomplete gives me suggestions.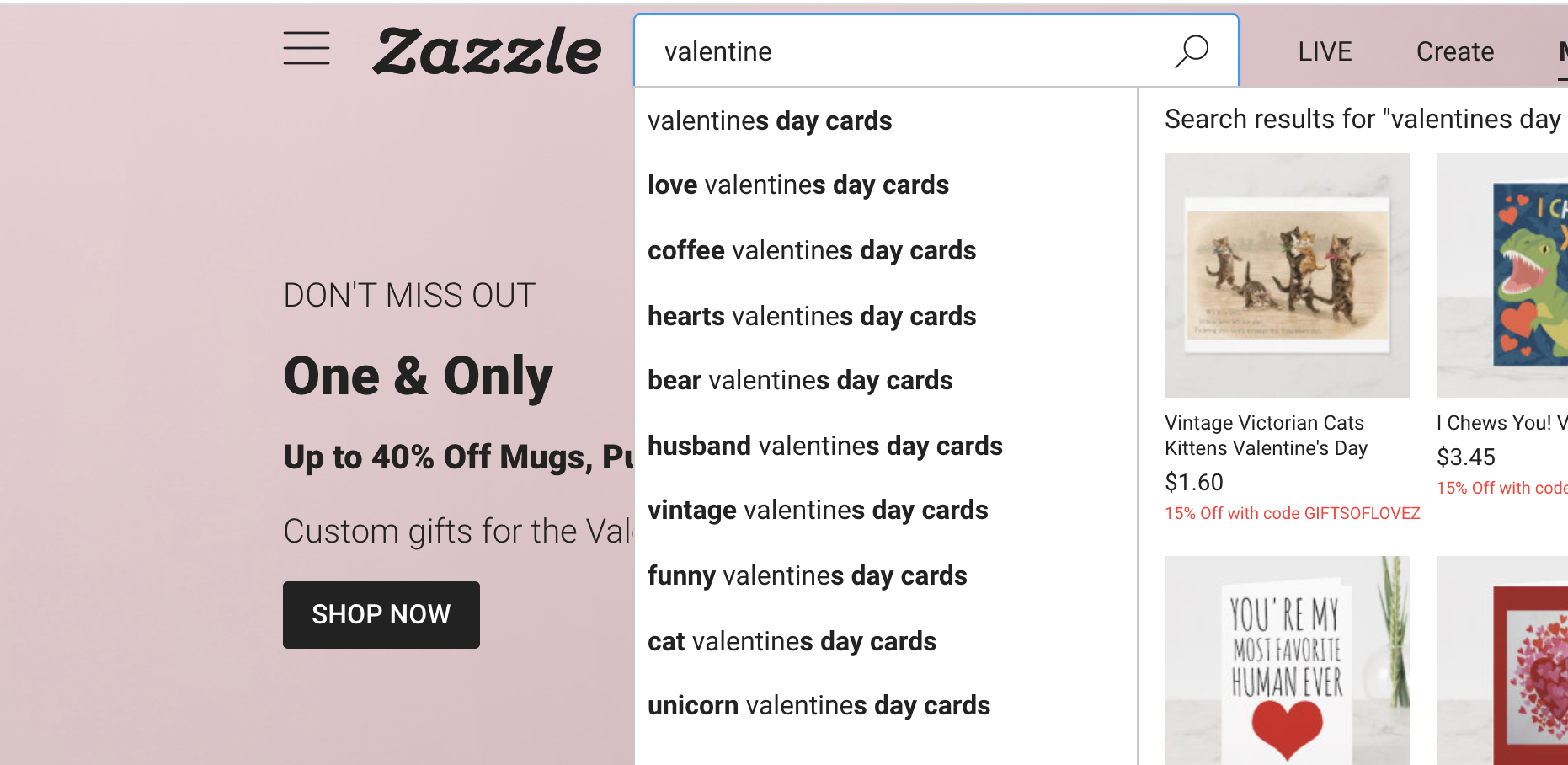 There are two important things to note here…
First, the autocomplete completed the phrase after only typing in the first word valentine.
Second, all the ideas end in "cards." As I mentioned earlier, cards and invitations are extremely popular on Zazzle.
The keyword "valentine's day cards" would be an example of a broad, generic term that is too competitive.
You can tell because there are almost 100,000 results.
As a general rule, I don't touch a keyword unless it has less than 1,000 results. Ideally, I prefer even less than that.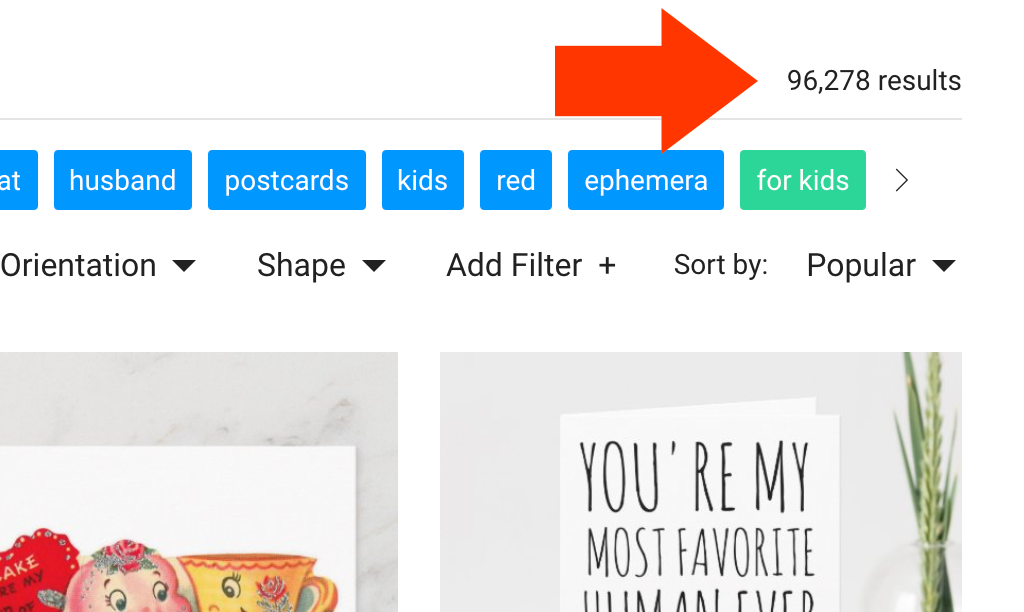 Also notice there are suggested keywords in blue located below the number of results.
These are related queries/searches and I would suggest clicking them to get ideas for other keywords.
If I click "husband", I can now see a smaller number of results targeting husband valentine's day cards.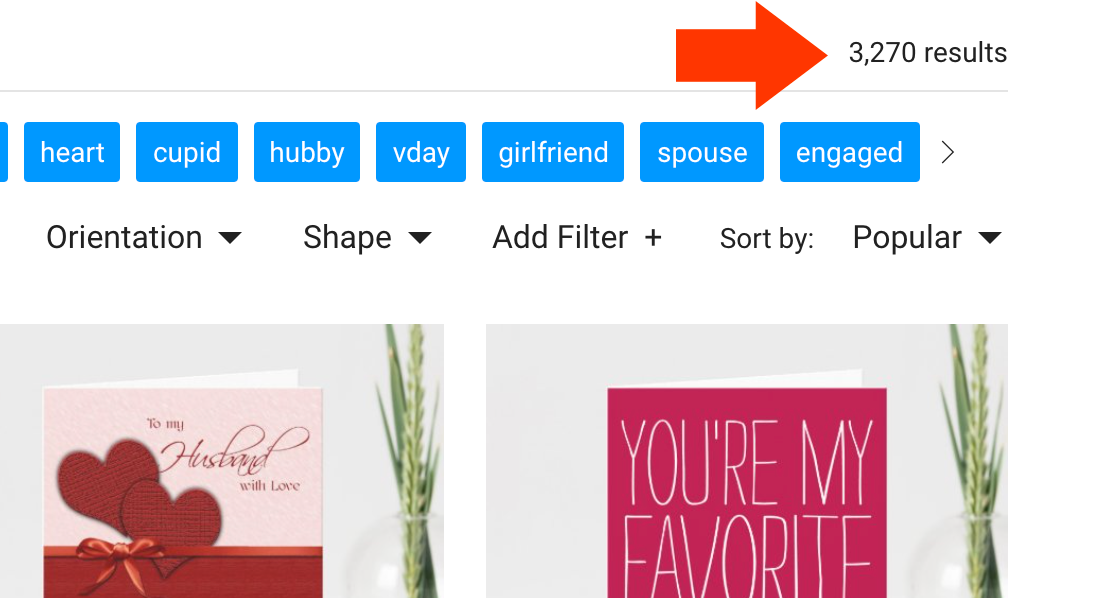 Now the results are down to 3,200.
This is called "narrowing down," and it's the most important part of the print on demand selling process.
Let's click one of the suggested terms one more time so we can narrow our results down even further.
When I click "funny" I see 488 results.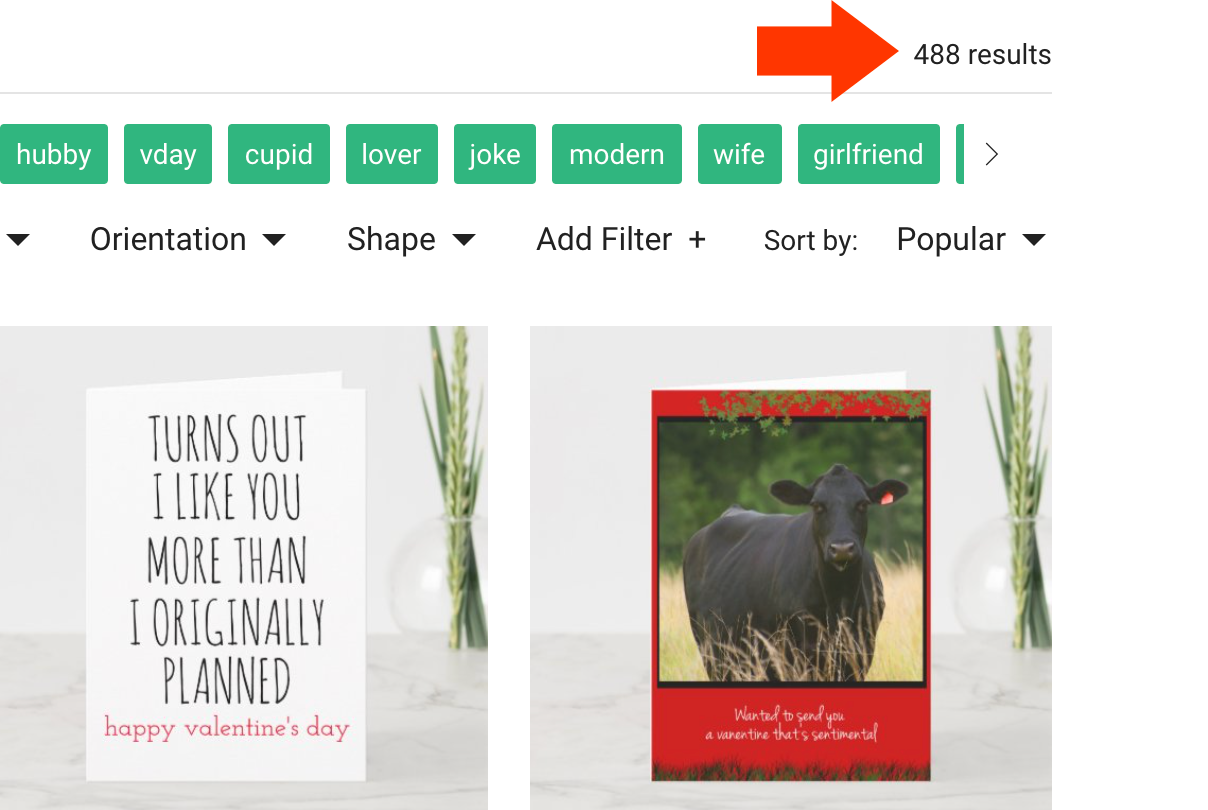 A-ha!
Now we're getting somewhere!
So your main keyword is going to be funny husband valentine's day card.
That's the niched-down keyword you are going to target for the product.
Here's a sample card I created to illustrate this example…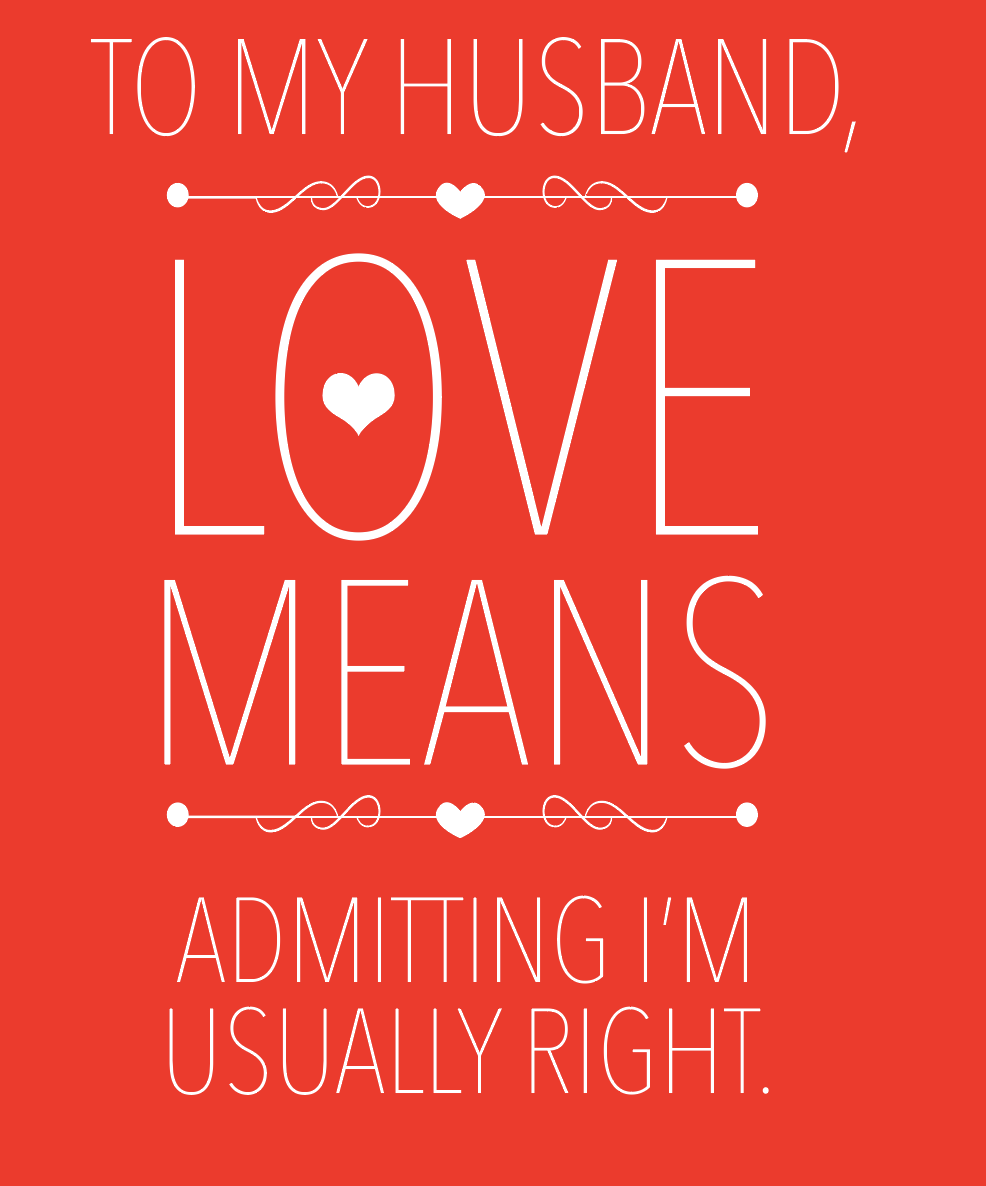 Your title for the product should include all the important words you found in your research.
So the above example might be titled…
Funny Husband Valentine's Day Card – Love Means I'm Right
The point is to get your main search-friendly phrase in the title. You can include the entire design quote in the description if you'd like.
What's great about this process is you can apply this strategy to almost any print on demand site.
Not all of them list related keywords or tags under the main query like Zazzle does, but many of them have autocomplete and all show the number of results.
This is the foundation for keyword research on any print on demand website.
You study what kind of products and/or topics seem to sell on that site. Then you narrow down using clues such as the autocomplete, search results and search tag suggestions.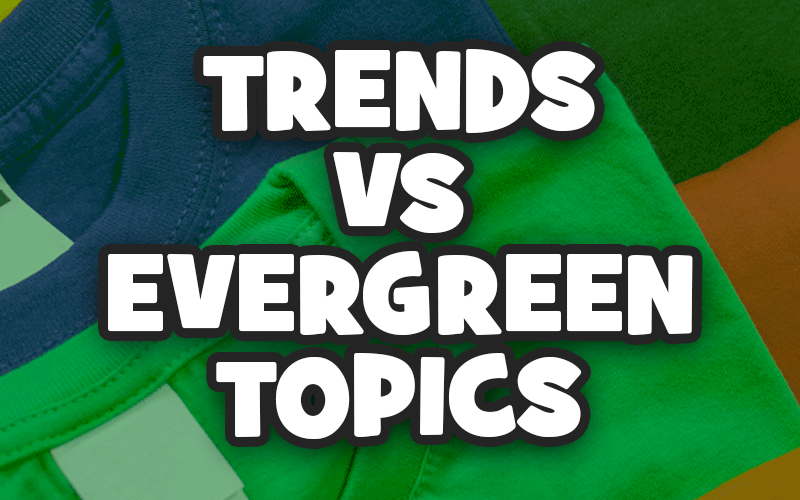 This has always been a highly debated topic in the print on demand arena.
Should you target trendy or evergreen keywords?
Trends are keywords/topics that are selling a lot, but the demand is short-lived.
A great example of a trend I capitalized on was the Total Solar Eclipse from a few years back.
Even though this keyword was only hot for a few months, the demand was so high that you could make a lot of money in a short time.
Holidays can also fall in the trend category because they are popular, but sales will only be hot for 3-4 weeks leading up to the holiday.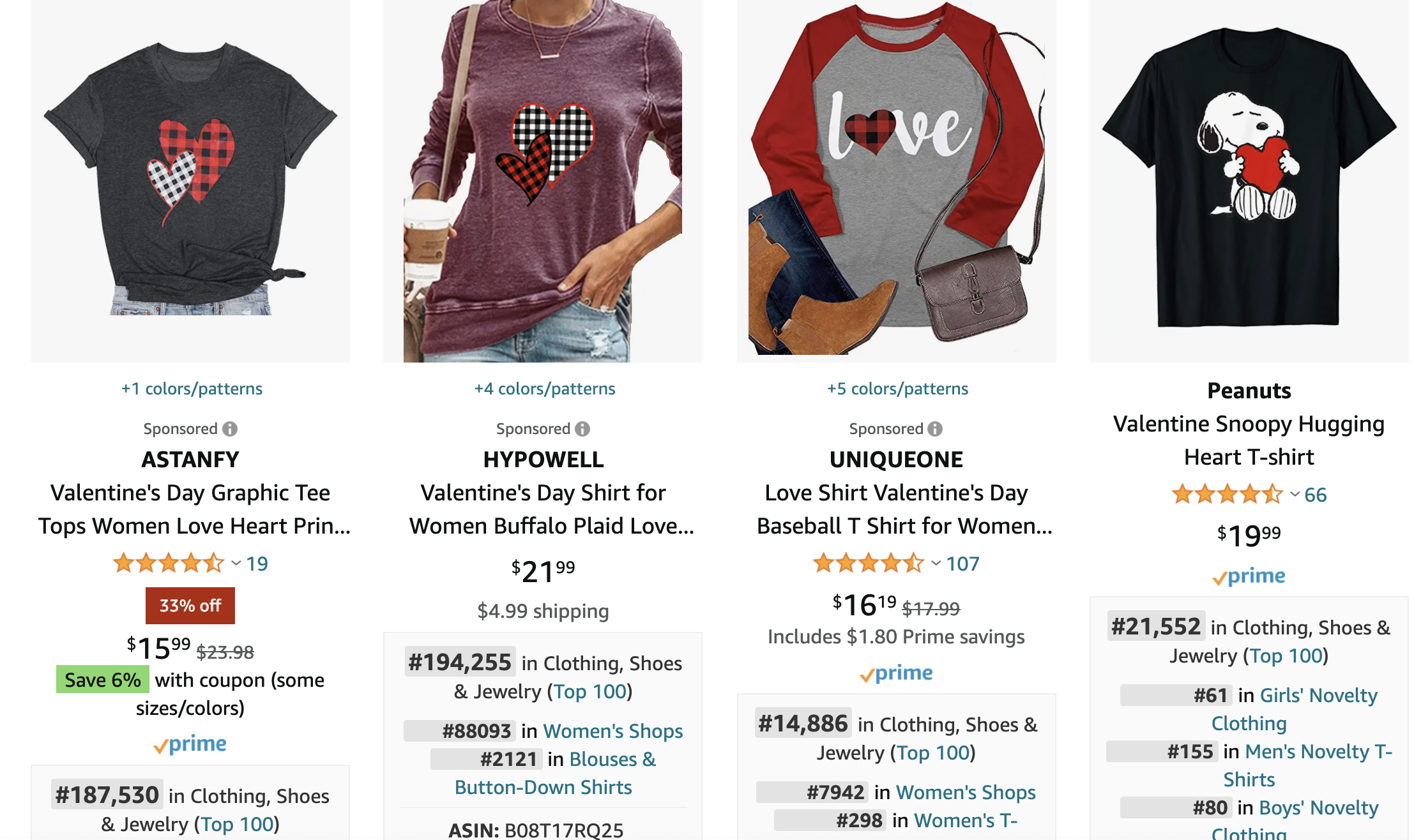 I've had the most success with trendy keywords and holidays on Amazon because of the high demand.
There's typically so much opportunity to narrow down various trends and holidays.
Evergreen topics, on the other hand, sell all year long, but the sales are more sporadic than trends and holidays.
Examples of evergreen keywords would be professions, hobbies, sports or life events (weddings, baby showers, etc.)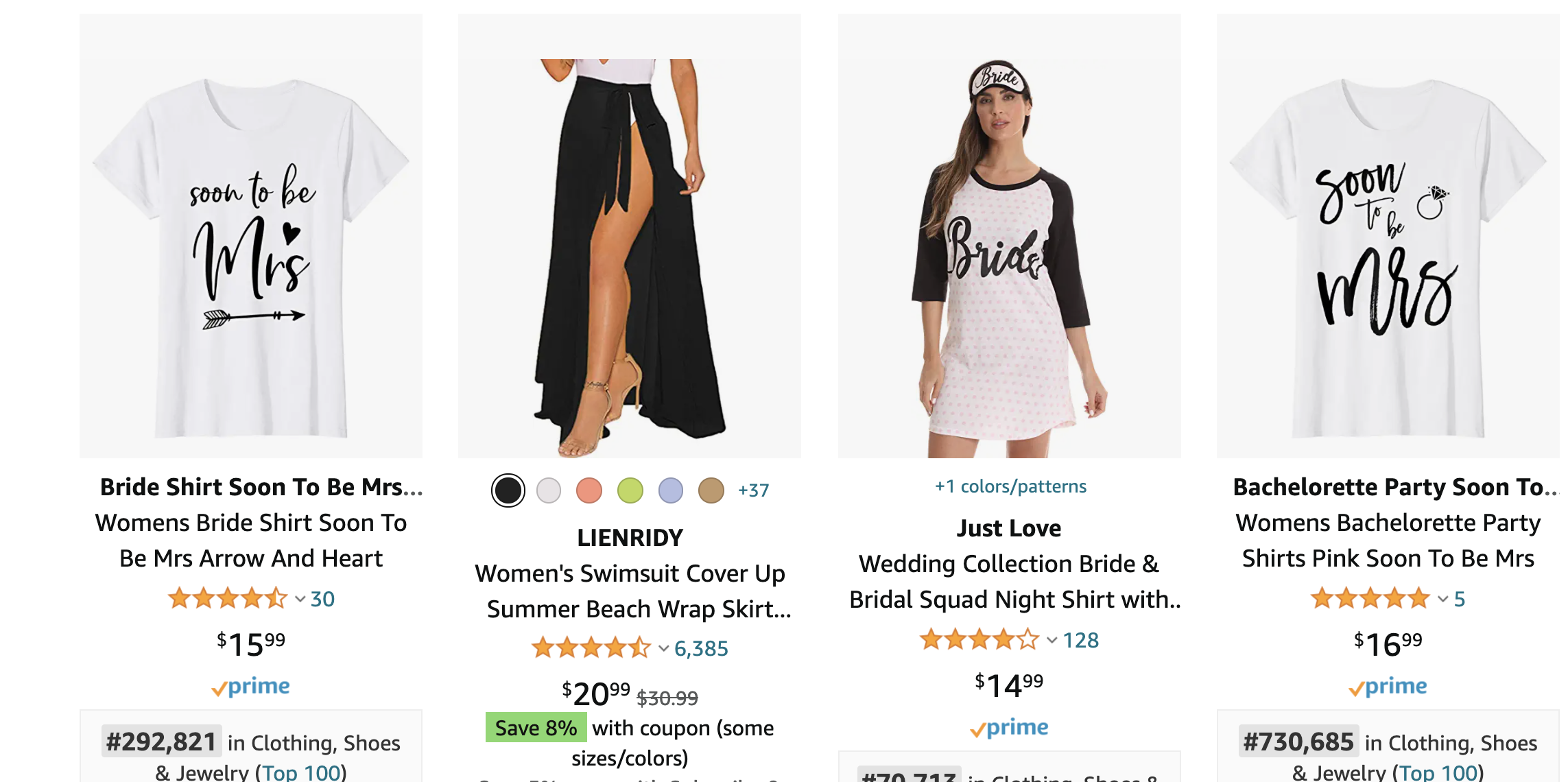 Overall, I've made the most money with evergreen topics, but I've made the fastest money with trends and holiday keywords on Merch By Amazon.
It's a good idea to mix up your strategy and target both.
Both strategies have pros and cons.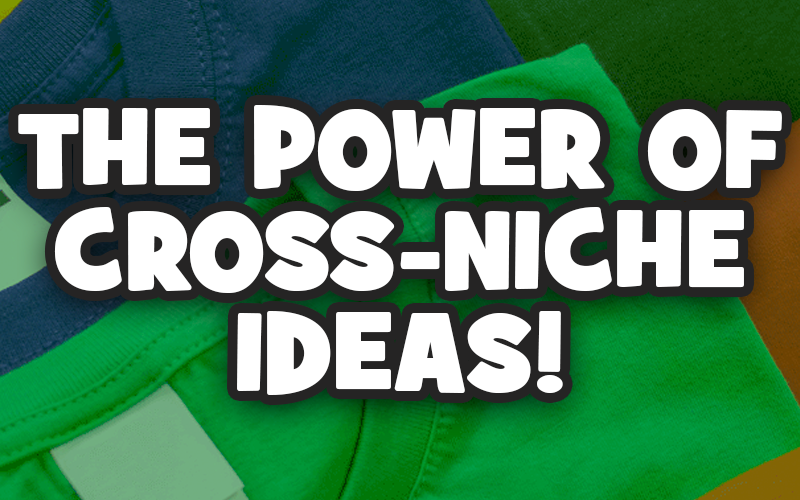 One of the best ways to narrow down a broad, competitive idea is to use the cross niche strategy.
This is my FAVORITE approach to print on demand, especially on Merch By Amazon.
This is when you take two broader topics and merge them together for one design idea.
The point of doing this is to target more "searched" keywords in your title and description. This gives your product/design more chances to get discovered.
A great example of this would be a pizza valentine's day shirt. You're taking a holiday such as Valentine's Day and crossing it with pizza.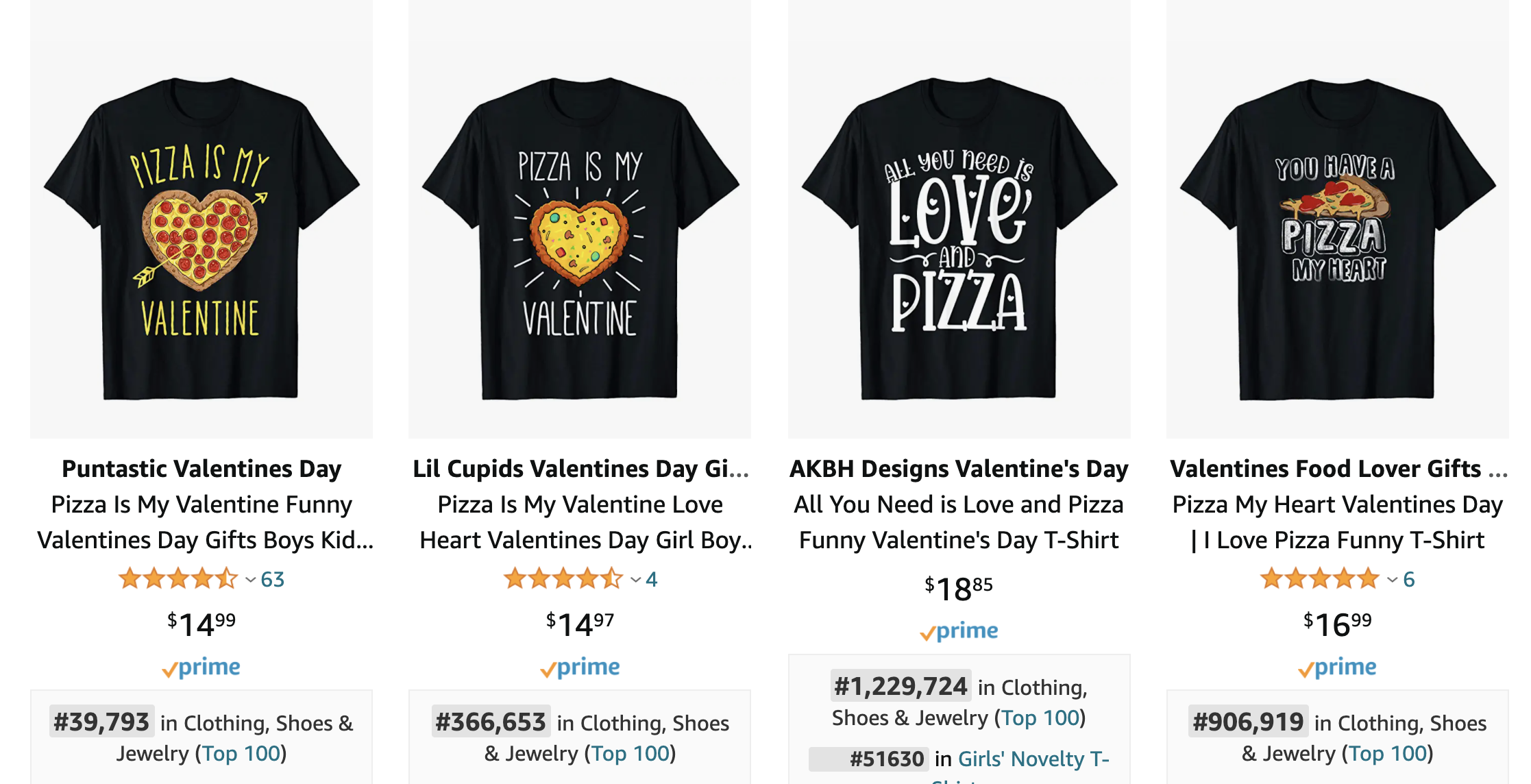 Both topics are very broad and saturated separately, but when you combine them, there is less competition.
This concept can work for a lot of different Valentine's Day topics. People like to buy shirts that express their love for a lot of different foods and hobbies.
If you happen to read this after Valentine's Day has passed, you can use this strategy with other holidays.
For example, St. Patricks Day is synonymous with luck. So you can combine the luck concept with other evergreen topics…
Lucky to be getting married
Lucky to be having a baby
Lucky to be retired
Lucky to be a nurse

You take the major theme of the holiday (luck, love, thankful) and cross niche it with another evergreen topic.
Cross niching has been such a major part of my strategy with so many different keywords and print on demand sites.
My best-selling Zazzle product is an invitation utilizing this cross niche strategy.
Instead of just creating a Halloween invitation, you can create a Halloween 13th birthday party invitation.
And the great thing about Zazzle is the customer can personalize the design by changing the text.

By targeting BOTH topics (Halloween and 13th birthday), you're giving your design a chance to get more exposure.
Here's a video showing one of my cross niche shirt ideas that sold on Amazon in late 2020.
I hope you took time to watch that video above.
It touches on some VERY important mistakes and assumptions that people make with keywords.
As a result, you end up having a very narrow view of how keywords work. That's the LAST thing you want if plan to learn this business.
There are infinite niches and sub niches when you cross niche.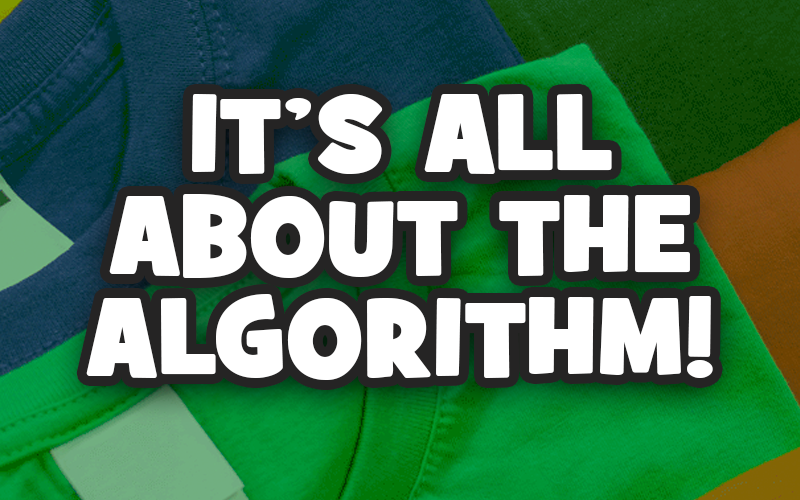 The word algorithm is just a fancy term for the programming code the website uses to rank products after a search is performed.
Understanding how they work is a big, big part of selling, and I find that many newbies do not understand how this works.
Most algorithms favor sale conversions over anything.
That means if a customer types in "funny black cat shirt" and your design converts a sale better than the competition, your design will rank better than the average shirt that targets that phrase.
That's why you want to create designs that not only target "searched" keywords that you research, but you want to get clicks when your design shows up in the results.
That means your design should…
be large enough to see on a mobile device
be relevant to the search query
get clicks when ranked and hopefully sales
The better your design converts with clicks and sales, the better it will rank over time.
Not every POD site's search algorithm is the same, but they all tend to put more weight on the title of the listing for ranking initially.
That means you should always include the targeted keywords you researched in your title.
The description is typically weighted second behind the title.
Once the item sells, then the sale conversion ultimately determines where the product ranks long term.
RedBubble, in my opinion, puts too much weight on keyword tags.
As a result, it makes it super easy for people to abuse the results by using irrelevant tags to boost the rank.
Hopefully they fix this and model their algorithm after most of the other POD sites.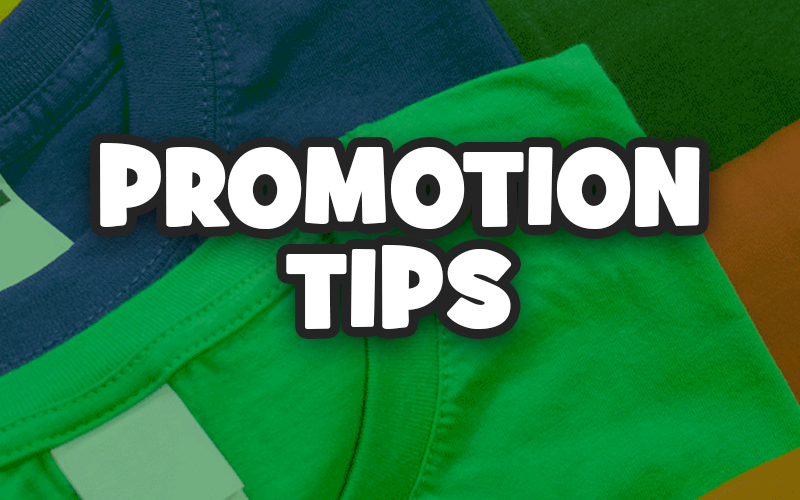 It's always a good idea to diversify your traffic sources.
Even though all these POD sites can drive traffic to your designs through the marketplace, the traffic is always unreliable due to competition.
For my largest shop, I use Pinterest. This is my favorite external traffic source.
Here's a video that shows how I post my designs.
Not only is Pinterest easy, but it also brings me sales every month!
The video below will show how to see which sales come from Pinterest (or any website)…
When I post my images on Pinterest, I often use mockups from PlaceIt.net.
Video mockups tend to get the best exposure compared to the static mockups.
If you sign up with PlaceIt using my affiliate link, you will get 30% off the annual subscription.
By the way, I never recommend any product or service with my affiliate link unless I personally use the service myself. That's my guarantee.
If you don't want to use PlaceIt, here's a tutorial where I show you how to make video pins with two free options I use: Canva and Keynote.
Should You Use Paid Ads?
Some POD designers have found success in paid advertising sources such as Facebook ads and Amazon Sponsored Listings.
I have actually tried both of these and had very, very little success. In fact, I ended up spending more than I earned overall.
Update 2023: I have spent a great deal of time in the last 18 months learning how to do sponsored ads on Amazon, and I'm getting better. I'm no pro, but I am at least profiting.
Summer 2023 has been quite productive. I'm finally getting somewhere with ads.
About 85-90% of my POD sales have come from FREE traffic.
Even though I use ads on Amazon now, you can still get free traffic.
I prefer to build niche shops on sites like RedBubble and TeePublic. You can still get lots of sales without ads because they have their own traffic base.
Once I find keywords that sell well, I build a niche shop that focuses only on those phrases/audiences.
That method has worked well for me because I do put a lot of time into very unique, quality designs.
Update 2023: TeePublic and RedBubble introduced tiers that made it much more difficult for some people to earn. Read about it here.
Creating niche shops are the way to go in my opinion. It's better to create high-quality designs laser-targeted to a specific audience. It's a better long-term strategy.
Putting work and time into your designs will help them stand out, and you'll have an easier time getting free exposure.
Ads are still NOT necessary (especially if you learn to dominate small niches), but if you can learn the system, you can make a lot of money.
I'm getting there, but still have a lot to learn!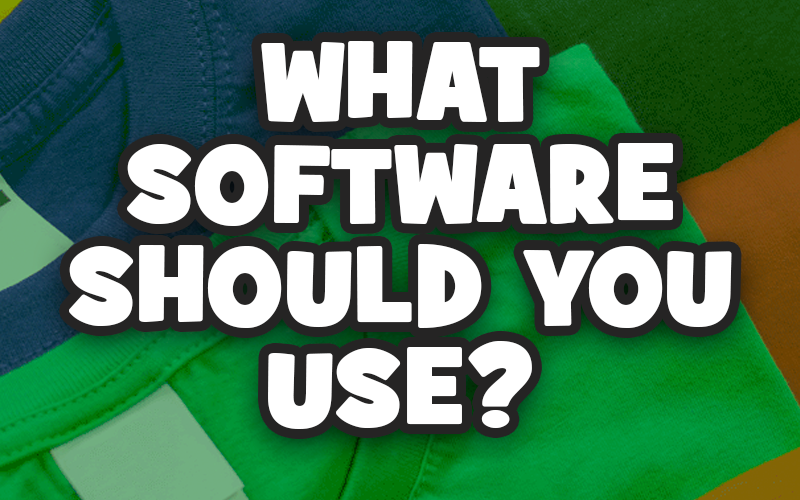 Just like there's no "best" POD site for everyone, there's no "best" software.
I use Photoshop and Illustrator (I have the Adobe Creative Cloud Suite).
I chose Photoshop because I had to learn it for my 9 to 5 job many years ago.
Once I quit my job to do my biz full time, I learned even more about it. I started learning Illustrator a few years ago.
These tools are so powerful, and I credit them with my POD income, especially as competition picked up.
However, they are not for everyone.
If you are just starting with POD, there's no need to invest in software.
There are plenty of great, free tools out there such as Photopea, Gravit, Inkscape and more.
As much as I'd love to have you in my Photoshop course (because I'm confident you'll learn it very quickly), I totally understand why investing in software may not be an option at the moment.
Whatever you choose to learn, just set a goal to master it so you can create a variety of different designs with textures, various text layouts, patterns and more.
This will help you stay competitive. I do believe that is one key to my longevity.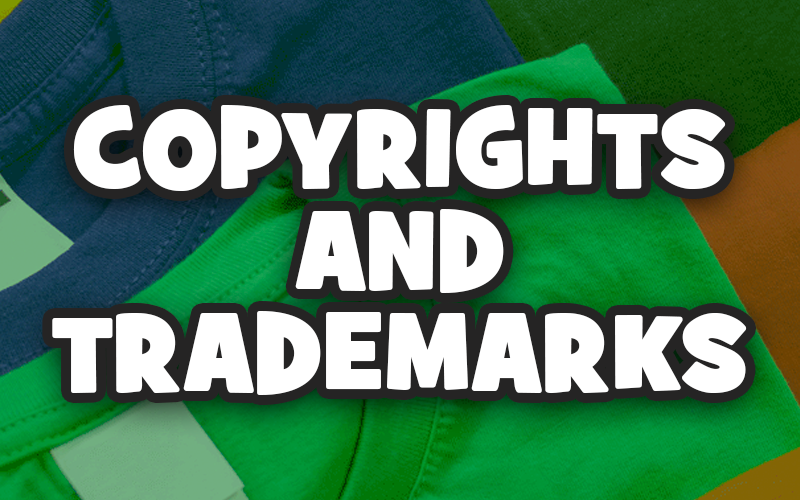 This is a subject that confuses a lot of newbies.
First of all, every unique creation of your own is automatically copyrighted by you. There's nothing you need to do to make that official.
That means if someone uploads an exact duplicate of your design (same layout, placement, fonts, images, etc.), you have a right to report it to the website in question.
Most print on demand websites have report links in their Contact section. Here is Amazon's form.
Trademarks are registered images/logos, phrases and terms owned by individual people and companies.
You do not have to trademark your designs. In fact, that would get very expensive.
The only time you would consider trademarking something is if you are building a brand or website around a phrase/term, and you don't want anyone else to use it.
Or you might end up creating a phrase that goes viral or ends up selling very well on your products.
You can file a trademark for the phrase/term and no one will be able to use that word or phrase on their shirts or products.
To check trademarks, you can use the TESS website.
Amazon has a great guide to help you understand how to ensure you aren't infringing on someone's mark.
Now, if you create a design with a NON-trademarked phrase such as I love you and someone creates another design that says I love you and the font and layout are different, you have no grounds for a take-down.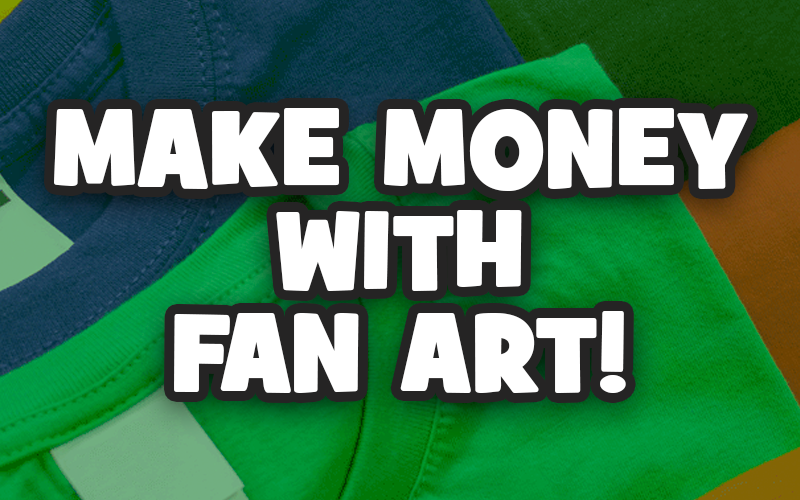 Fan art is one exception that allows you to legally create and profit from designs that target brands, celebs and TV shows.
You just need to make sure the individual POD site is approved for that brand.
For example, Teepublic and RedBubble have certain brands that are on their "approved fan art" list.
That means, as long as you are uploading to their website, you are allowed to create art that targets and uses these brand names and approved logos/images.
Here are details on RedBubble's fan art program.
Update 2023: TeePublic and RedBubble only allow people in higher tiers to sell fan art. Read more about the tiering updates here.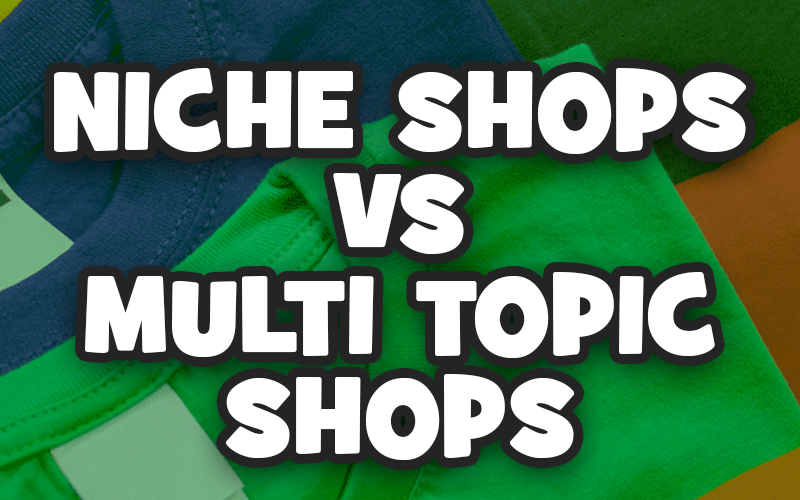 Some POD websites allow you to create shops. In fact, most of them do.
That means you get a link that takes people to all your designs, and typically you can organize them by category or collection.
The big question many have is…
Should I focus my designs on one topic/niche or should I create a multi-topic shop?
You'll find that most people prefer to do multi-topic shops, and they'll organize their designs by category.
This is a popular choice because people like variety and don't want to limit their designs to one topic.
Some fear they will get bored or run out of ideas for a single niche.
People also believe they will have a better chance of making sales by targeting a variety of topics.
That could be true, but isn't always the case.
I have had more success with niche shops.
That means every design on that shop targets a specific audience that has a common interest or need.
An example of a niche shop would be one that only targets rock climbers or female firefighters.
A niche shop could also be a specific kind of art style like line art or minimalism. Even though the topics may be different, the art is themed.
The shop below focuses on scenic, minimalist shape art.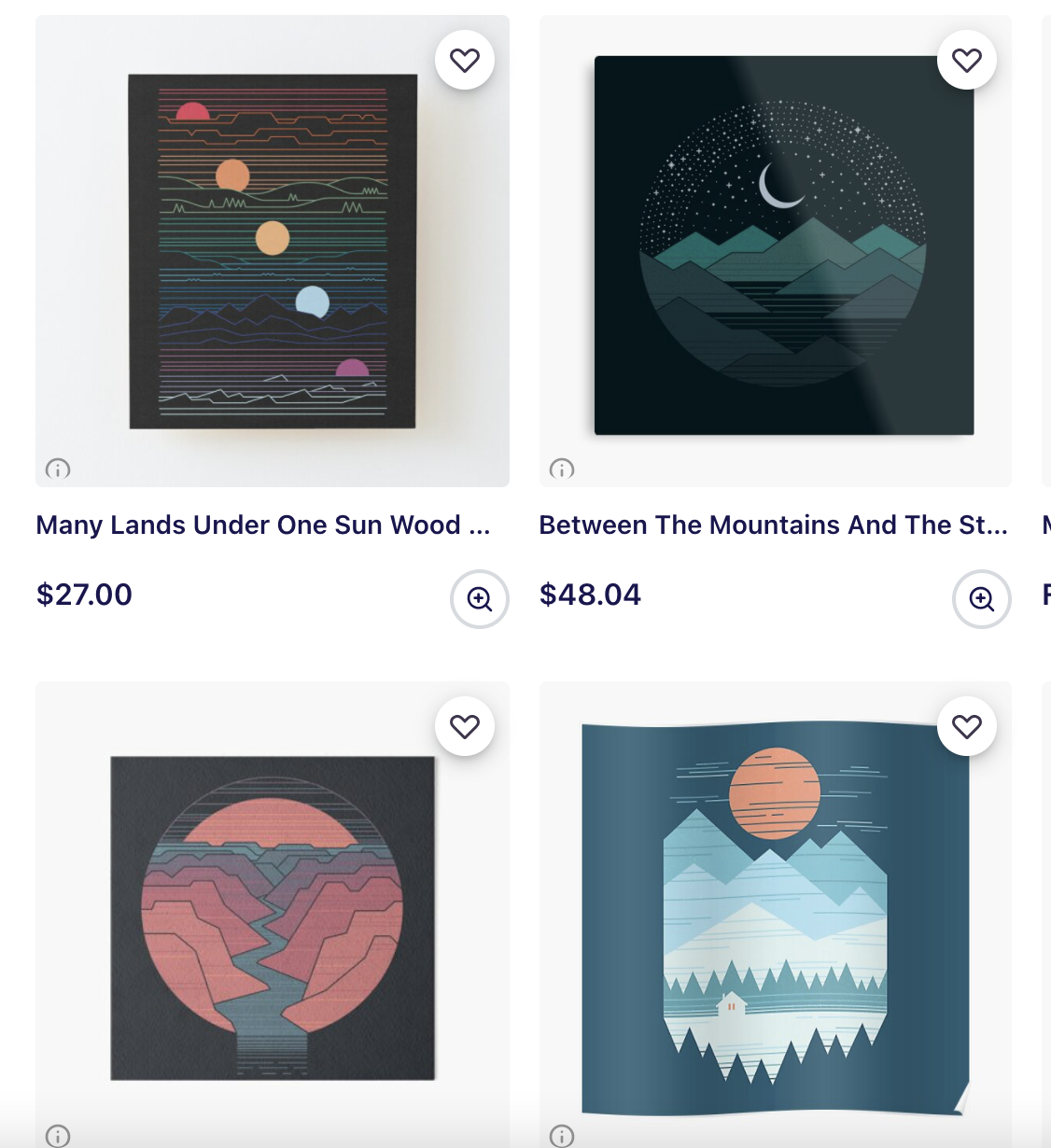 The reason I like niche or themed shops is the followers tend to be more engaged in what you post.
That encourages repeat buyers, and tends to draw a more enthusiastic following on social media.
I get messages on my shop from excited fans with design requests and custom work needs.
I turn most of them down because people don't want to pay enough for the time.
For my largest print on demand niche, I actually made more in 2020 from custom work and licensing than I did with this particular print on demand shop sales.
People in my niche found my art on social media and my store. Some want custom work they could re-sell on their own shops (online and offline).
I now have repeat clients, and I charge for my time.
It was NEVER my goal to freelance. It just happened as a result of serving an untapped niche. I only do it if the price is right.
My Illustrator knowledge is paying off big time because I've been able to create very unique designs using patterns and 3D.
Niche shops also open the door to creating a brand with a website if you want. You never know what can happen when someone in your niche discovers your art.
Multi-topic shops can also get lots of sales, but it's harder to attract targeted, engaged followers.
Plus, you won't know what designs caused people to follow you. That makes it difficult to know what they want to buy.
I've also found that I need fewer designs to make sales with niche shops, and I believe a lot of that has to do with more repeat, targeted eyeballs on the designs.
Let me paint a better picture so you can see how this can work…
Imagine you are a female firefighter and you find this amazing T-shirt design while browsing Pinterest.
It's an image or message that fits you perfectly.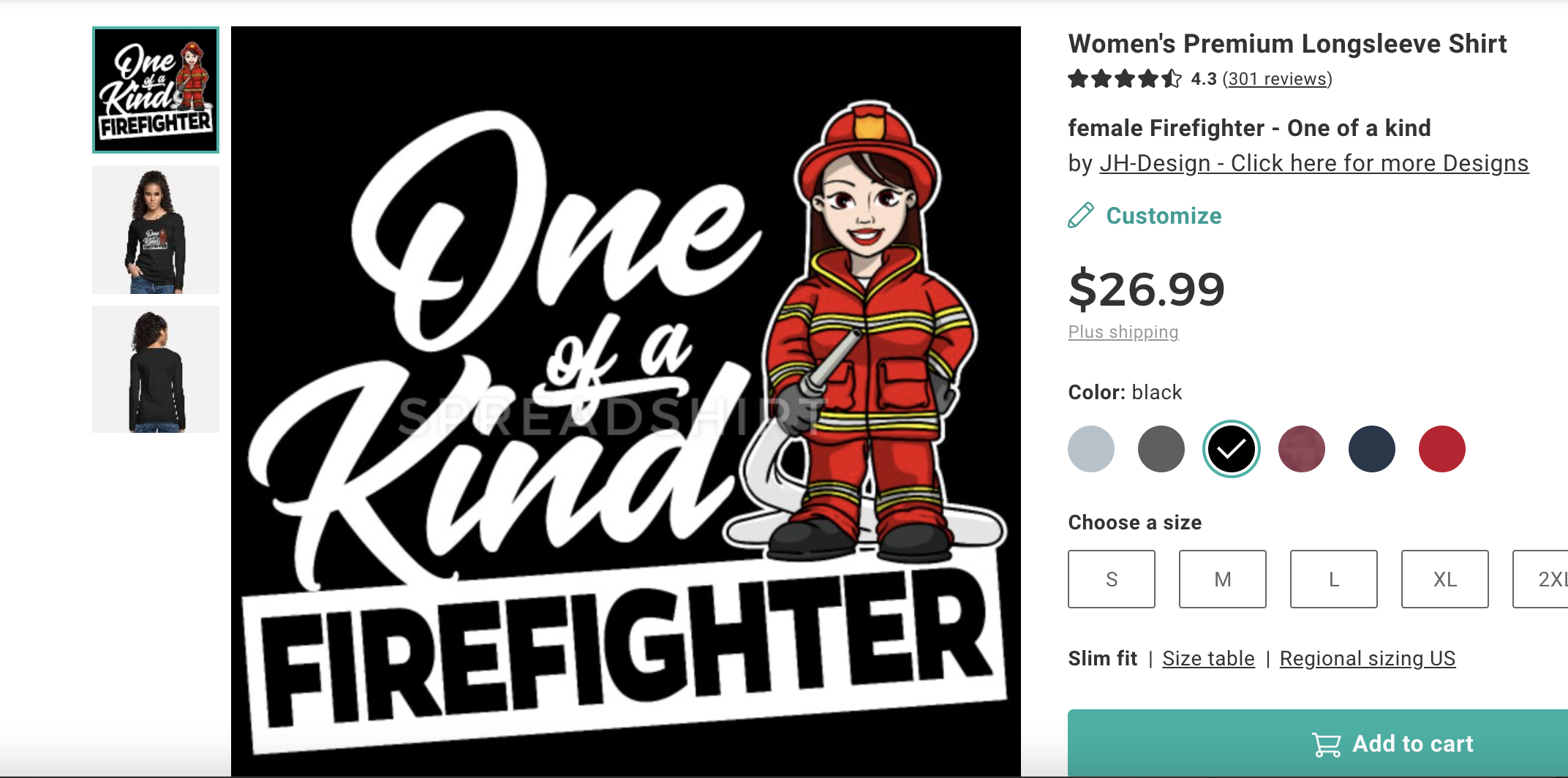 You click the pin…
It takes you to a random Spreadshirt account named "Cool T-Shirt Designs" that happens to have one female firefighter shirt.
You don't really pay much attention to the shop because of the random name.
You quickly buy the firefighter shirt and go on your merry way.
Two weeks later, someone asks where you bought it.
You remember that it was from Spreadshirt, but you don't recall anything about the shop or designer because there was nothing memorable about the name.
You never return to that shop again.
Compare that to clicking on the same shirt from Pinterest, but you notice the name of the shop is Fem Firefighters.
Hmmm…..you're intrigued by the shop name, so you click the link to view more designs.
Immediately you notice the cool logo with a lady firefighter design and an overwhelming amount of unique designs for female firefighters.
You think to yourself…
"Wow! Look at all these cool, female firefighter designs!

I have never seen so many shirts and products for women in my profession!

Finally! Someone is creating art for ME. I'm tired of only seeing designs with men on them!

Let me see if they have an Instagram account because I want to know when they add more designs. I might want to buy more tees and have some custom designs made.
Sure enough, there is an Instagram account with the exact same name as the shop. You also notice they have a website under the same name.
You are much more likely to remember that shop or brand because you're now following them on social media and the shop has a memorable, relevant name with lots of unique designs for your niche.
You pay closer attention to their Instagram posts, new design uploads, etc. because this is a subject that is very special to you.
The shop made an instant impression due to branding and the abundance of unique designs that fit YOU.
If you build a niche shop, that should be your goal.
Create a lasting impression on an underserved group of people.
When I say "underserved" I mean a niche that doesn't have a lot of high-quality art in one place.
Aim to be the BEST source for unique, inspirational, funny or empowering designs that audience has ever seen!
The advantage of having a shop with a niche following is you know exactly what they want to buy because everything is related.
Conversion rates are higher AND there's a much better chance of repeat, loyal buyers.
There's so much potential to scale this if sales really pick up, and it sets up more stable income for the long run.
Print on demand can actually open the door for more income opportunities. It can become a doorway to freelancing if that's your goal.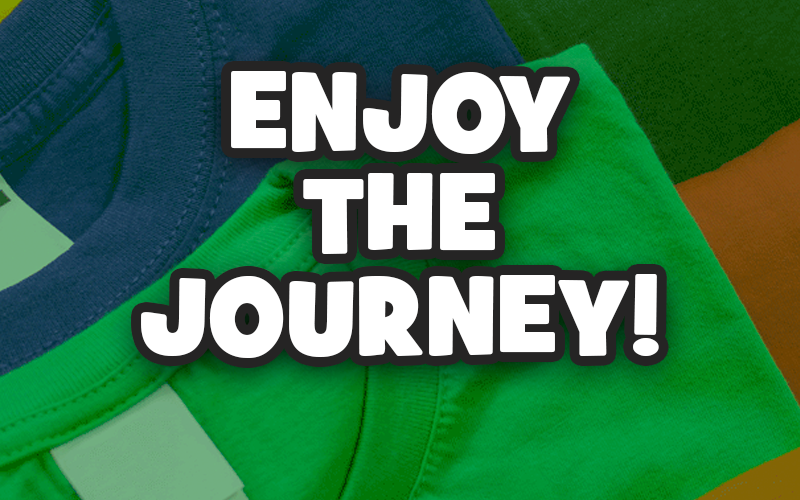 If niche shops aren't for you, that's OK. You can still do well with print on demand if you find good keywords and execute with your designs.
Whatever road you take, it's a journey and will take hard work!
If you don't enjoy it, it's going to make this even more challenging. That goes with ANY money making venture.
This has been one of the most fulfilling ways I've earned online, and I wish you all the success in the world!
However, if you want success, you ARE going to have to put your art out there and try a LOT of different ideas.
Try not to let perfectionism make you overthink every move. This is single-handedly the biggest hurdle for a lot of people because it prevents people from uploading enough.
Keep trying, experimenting and learning.
My biggest asset has been TRIAL AND ERROR. Without it, I wouldn't have known what sells and what doesn't.
Reach out in the comments below if you have questions.
I love hearing from you!