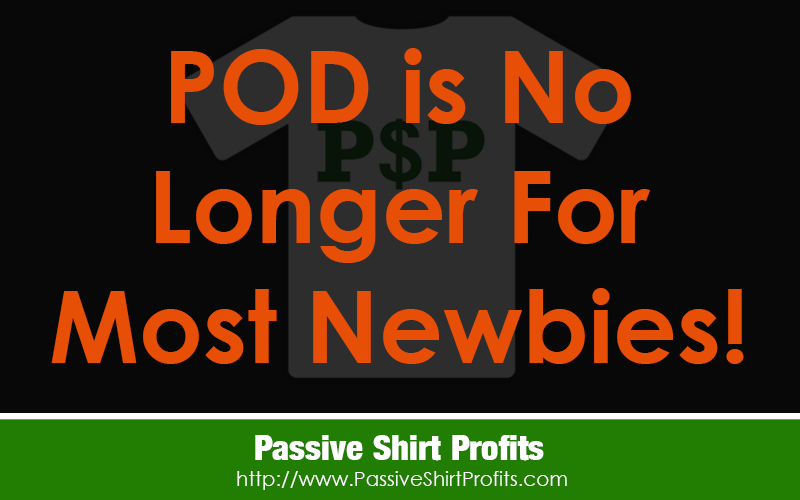 Whether you're on Reddit, YouTube, X (formerly Twitter) or Facebook, it's not hard to find posts about print on demand being dead.
Of course, it's not technically dead.
But the real truth is, the percentage of people making worthwhile money is getting smaller and smaller as competition thickens.
Since 2021, I'd say it's gotten increasingly more difficult due to the economy (inflation) and added competition during the pandemic.
Unfortunately the pandemic and job loss also added a higher level of "desperate money makers" to the pile, so the level of theft and spamming seems to have gotten even worse in some ways.
Not to mention, companies like RedBubble and TeePublic have introduced new "Tiers" and now make it harder for newer and even some older accounts to get any kind of organic visibility.
I believe the out-of-control spamming and upload automation played a role in why they did this.
Is POD impossible? Of course not.
However, it will take more time, dedication and strategy than it did when I started.
If you happen to find an untapped niche, start earning regularly and stick with it, you will have an advantage because most will give up.
Nevertheless, getting to that point is much harder for beginners now.
I'm In The Middle & Upper Tiers on RedBubble and TeePublic
As I just shared, RedBubble and TeePublic are now categorizing / tiering accounts.
I was fortunate enough to land in the middle and upper tiers on both RedBubble (Premium) and TeePublic (Artisan), but so many people were not so lucky.
The lower tier accounts earn less and have less visibility in search results.
In fact, that's why I made the decision to stop allowing enrollments in my Niche Shop Success course in May.
Even though the course content is still very relevant and evergreen, it was very heavy on RedBubble content, and I think too many people were discouraged by the tiering.
As far as my main RedBubble account goes, I am very glad I focused on quality over quantity and did not use any automation to upload.
I do believe some people who utilized those strategies were punished.
RedBubble made it very clear that they want branded shops who have a social media presence.
I am also drawing my own traffic from a website related to my shop. These are likely some of the factors that played a role into how they selected tiers.
Now… don't get me wrong.
I'm not saying RedBubble was fair to everyone.
Let's face it. Some hard-working designers got screwed. And I don't believe they sat down and reviewed all the thousands of shops one by one.
There's just no way!
But I will say, of my 5 RB shops, 2 of them landed in the Premium tier, and they are the two shops that earn the most. Also, the art is very niched, detailed and the shops are branded/themed.
My largest and highest earning shop has a social media presence, website and the art targeted a specific audience. The shop was always setup that way, and I believe that played a role in the tiering.
There were rumors RedBubble gave all the top-selling shops a lower tier (Standard) so they can take more of their royalties.
I'm not so sure about that.
All I can say is that my top 2 earning shops both got Premium status. The three lower-earning shops that I rarely update got Standard. Seemed fair to me.
Also, all my shops use an alias.
I do not upload any of my print on demand work in my name so I can protect my work.
I'm sharing that in case people thought I received some sort of "YouTube guru" tiering advantage with RedBubble and TeePublic.
Nope. I use an alias for all my accounts on print on demand.
I'm VERY glad I made the decision to do that early on.
What RedBubble and TeePublic Want
I believe both RedBubble and TeePublic really want serious artists who take a branded approach to their shops.
That means high-quality, detailed, creative work, and preferably a social media and/or website presence to show that you are also drawing your own traffic.
Avoid scaled designs that are similar (i.e. 30th, 40th, 50th birthday shirts). In fact, TeePublic even states they do NOT like those kinds of designs in their FAQs.
And I'm still a very big fan of creating NICHE SHOPS, where all your designs target a specific audience.
My TeePublic shop actually got DEMOTED to the Apprentice category after initially earning Artisan status.
I messaged them and asked for a reconsideration. Low and behold, within 24 hours they granted my wish and put me back on the Artisan tier/category.
Here's the email…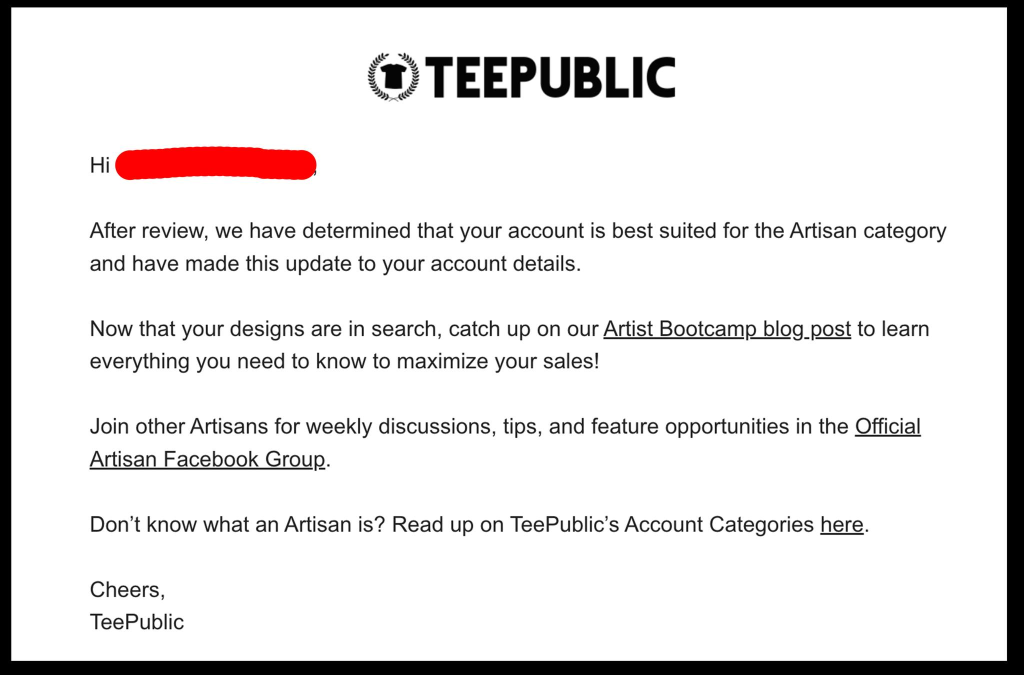 In case you're wondering, I covered up my shop name for privacy reasons.
I honestly didn't expect them to promote me. I just thought I'd give it a shot because my art did NOT fit the Apprentice category description.
I don't do a lot of scaled designs on TeePublic, and much of my art is very detailed — often hand-drawn.
The tier promotion has really increased my sales. In fact, TeePublic is the only platform where I tend to sell newly uploaded designs very quickly (often the very next day).
It's really a shame the tiering or category process was not set in place from the very beginning on both RedBubble and TeePublic.
In hindsight, that would have been a fairer way to do it. That way, everyone has an opportunity to earn their category/tier from the beginning.
However, I believe these sites are just being reactive to all the spamming and automation that has gone on since print on demand gained popularity in the last 5 years or so.
It has gotten out of hand!
I would bet that many of the newer YouTube gurus teaching POD now aren't even earning much, if at all. It's all about YouTube views!
This has really hurt print on demand in the long run, and yes, I realize I was actually part of the "gurus" when I started teaching print on demand in 2017/2018.
However, it was nothing like it is now. There were very few people teaching print on demand on YouTube back then.
Not only was I earning a lot with POD myself, but I was helping others earn as well because it wasn't as saturated. A win-win! So it was a great way to diversify my income.
Back then, I was confident I could juggle teaching newbies effectively AND earning with my own designs.
And I did just that!
However, I don't have the confidence I can balance it as well anymore (courses, teaching, etc.) I don't think I'd help as many people.
Most newbies are extremely disadvantaged now compared to when I first started teaching.
So I'd rather just focus on continuing to learn ads and work on my own designs.
No New Courses… For Now.
I have no intention of making any more courses any time soon.
The only course that remains live is my Photoshop course, but I want to make it clear that it is best for people who are already selling and want to upgrade their software skills.
I realize there are much less expensive options out here now, but Photoshop is what I use so that's why I decided to teach it. No regrets!
NOTE: Existing students still have access to courses that are no longer available for enrollment.
If you are brand new to print on demand, there is no need to invest in any subscription-based software like Photoshop right away. I absolutely love Adobe products, but they are costly.
Utilize free software (just be sure you read the terms), soak up all the free training on YouTube, and see if print on demand is a fit for you first.
My POD content and courses have always attracted beginners for the most part, and I genuinely do not believe print on demand is for *most* beginners anymore.
That's why all courses involving how to start with print on demand are no longer offering enrollment.
Sure, there will be some people who get lucky enough and/or work hard enough to find niches that have low competition. Naturally creative people will still have a slight advantage.
And of course there will always be people who have faster-than-average success and stick with it. However, as time goes on, those groups tend to be fewer and farther between.
I'm still doing well with POD because I have many regular sellers on multiple platforms. I've also been doing print on demand since 2011. That makes a huge difference.
Those of us who have been active for some time, have an advantage newbies just don't.
However, I've lost confidence in being able to formally teach *most* new people just getting into this, especially after the RedBubble and TeePublic tier updates.
And since my content tends to attract more beginners, it doesn't make sense to continually offer those courses.
However, I'll still be here from time to time sharing what I'm learning.
I want to make it clear that anything I may sell in the future will be for active, regular sellers, not most newbies.
I'm Spending More Money on Ads Than Ever! (Amazon)
In late 2021, I started learning how to advertise my shirt listings on Amazon.
Let me tell you. This has not been an easy task.
Even though it's been profitable for me since the beginning, it's taken a lot of time to learn how to scale my ads. That's been my biggest challenge.
I was spoiled in the beginning of my POD journey.
I had my first $10K month on Amazon with under 300 designs, and I spent NOTHING on ads back in 2018. There is no way I'd be able to accomplish anything like that now.
It's Summer 2023 – after nearly two years – I'm FINALLY learning how to scale some of my manual campaigns.
But I'm FAR from teaching this formally, and I'm spending as much as $30 to $50 on some days! I started out spending very little ($1-$3/day), but recently found an active niche that had very few designs that I'm dominating.
I uploaded 20 or so designs, and got a jump on ads before much of the competition. As my sales ramped up, I increased my budget.
Below is my ad spend for just two months after finding an active niche.

Even though my ads are running slightly above the breakeven point here (roughly $300 profit), my organic sales have exploded as well!
So, it's been very profitable thanks to organic sales increasing, but I still have a lot to learn.
For those who are in my private student-only group on Facebook, I've been sharing what I'm learning as I go along.
NOTE: Even though I'm no longer teaching on YouTube or making new courses, I still remain very active and teaching existing students in my private group.

If you enrolled in a course previously, be sure to join us. You'll have to provide your name so I can verify you are enrolled in a PSP course.
I'm Still Here!
So now you know why I've gone quiet here. I'm still very active with print demand, as well as my other passive income streams.
I'm just not sure about the future of formally teaching beginners these "free" programs anymore.
The only thing I can see formally teaching (courses) might be advertising, but I am a LOOOOOONG way from that.
The landscape for POD has changed, and I'd rather just focus on my own designs and ads instead of juggling both teaching and designing.
That's just not doable for me given the competitive nature of POD. And to be honest, the teaching break has been kind of nice.
What I'm Grateful For
I will say…
I am so happy that I never stopped learning and improving my design skills. I did not have much of a background when I started POD, so I am pretty much self taught with software, etc.
It's easy to get caught up in selling courses and the teaching side of things. Quite honestly, that's why I created this site.
However, my designs and POD income always remained my top priority, thankfully.
Maybe it was a good thing I was kinda awful at marketing my own courses because I made that less of a priority and focused on my designs. 🙂
If you ever decide to teach these free programs, be careful you don't abandon your income streams outside of teaching because the landscape will ALWAYS change. You never want to put yourself in a position where you have to promote a fading program just to keep income coming in. Diversify, diversify!
I made a point to improve my software knowledge early on (especially Illustrator) so I could remain competitive, and I built a niche BRAND instead of just focusing on random uploads all over the place.
This is what I taught in my Niche Shop Success course (no longer available for new enrollment).
I believe that played a huge role in helping me land in the middle and upper tiers on RedBubble and TeePublic.
I treated POD like a business early instead of just focusing on uploading a ton of designs everywhere.
Best decision ever! So if you want to succeed in this business, I highly suggest approaching it that way too.
A lot of people did not like my "focus on a single niche and build a shop" advice when I launched my Niche Shop course in 2019, but that turned out to be a good move long term.
The process is slower, but it creates more stable income in the long run when you focus on serving a single audience with laser-targeted designs.
Now I'm hoping to scale earnings and diversify even more by mastering advertising on Amazon.
Whew!! What a ride!
Anyway, drop me a line and let me know how you're doing!