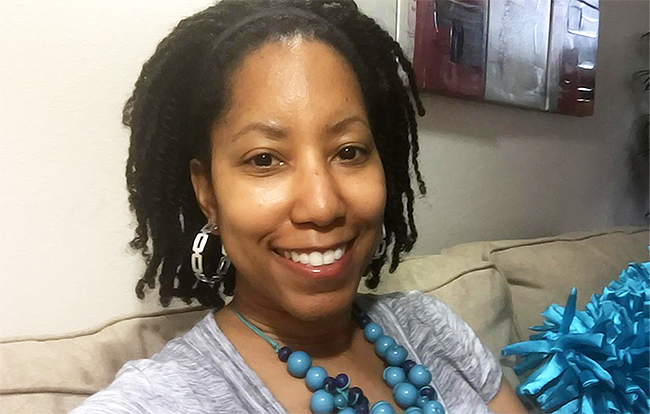 My name is Lisa Irby, and I'm what you'd call a serial entrepreneur. 🙂
I have been earning online for a number of years with various sources of income, and working online full time since 2006.
I have an extreme passion for developing ways to break down complex subjects so they are easy to learn.
That has been the foundation of any site I've created thus far, and I hope to continue with PSP to help YOU learn software and strategies to make more with print on demand websites.
The Journey
I got started with print on demand back in 2011, but my limited knowledge of software and lack of natural design talent kept me from earning much at all.
I created some very simple text designs in Photoshop and ended up making a few hundred dollars over the course of 3 years.
I know… not very impressive, but I didn't really begin focusing on POD until 2014.
I went from hundreds per year, to hundreds per month.
During that time, I began learning more about Photoshop, and that's when my earnings started to grow.
I'm now learning Illustrator, and finding that the more I learn, the more options I have with regards to my designs.
No, I will never have that natural design talent, but elements of design can definitely be learned.
Since joining Merch by Amazon in 2016, I now earn a very solid part-time income just from print on demand alone.
Even though some would consider the earnings full-time, I consciously call it "part-time" to keep myself from relying on it.
Below you can see one of my best weeks (February, 2018).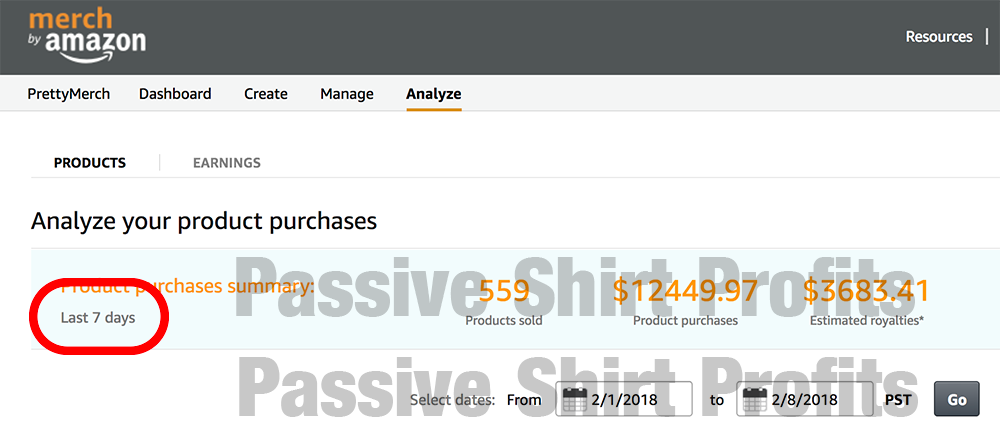 I've even recorded a video for proof because Merch reports can be altered.
In the early days of POD, I focused on one niche. But now that I'm on Merch by Amazon, I've been able to earn by creating designs in numerous niches.
When you join Merch, you get 10 slots/uploads. After you sell 10 shirts, you are eligible to move up to the 25 tier (slots/uploads), then 100, 500, 1000 and so on.
Why This Site?
You might be wondering if I'm so successful with POD, why not just keep everything to myself instead of creating potential competition.
Here's some REAL TALK…
While I am enjoying myself with POD and never dreamed I'd make this kind of money doing this, my income is very reliant on 3rd party traffic I can't control (i.e. Amazon).
I do not have a website related to the majority of my designs that are selling. That means they are getting found by searching Amazon.com.
I would never, ever want to rely on this kind of income because I do not control the traffic.
I've seen posts in private groups of people making plans to quit their jobs because of Merch by Amazon income, and I just shake my head.
As awesome as the program is, be cautious.  It's not a stable source of income source given the fact…
you cannot control competition
you don't control the traffic if you're relying on Amazon
earnings go up and down (trends, holidays, etc.)
you could lose your account without warning
It reminds me of Google AdSense several years ago when everyone was leaving their jobs to focus on AdSense, when most of their traffic was controlled by Google.
That's super risky!
A lot of those people were devastated when Google gobbled up their traffic, and their income dropped like a rock overnight!
So if you are making good money with POD, celebrate it, but be realistic about the situation if you don't own or control your traffic.
I See POD as a Passive Income Supplement
Being the serial entrepreneur that I am 🙂 , I don't look at Merch by Amazon or POD as the end-all-be-all for myself.
As a business person, you always have to think ahead.
I'm looking at it as a supplement and opportunity to further diversify my online income portfolio.
It's about looking at the bigger picture instead of depending on something that may be short term.
Many designers are now igniting their freelancing businesses by offering design packages and other design services for Merch users.
This is an excellent, savvy business move because they are using this opportunity to expand and diversify their income.
That's a hustle mentality you HAVE to have for income growth and stability.
If you are savvy in Illustrator or Photoshop, you can sell add-ons software add-ons (brushes, patterns, etc.) and other design services for people.
I absolutely love, love, love working in Photoshop, and I also believe there is an opportunity to teach it in a unique way that helps people learn it quickly.
So that's the motivation behind this site. I'm thinking far beyond just earning with Merch. I want to monetize my teaching ability.
The skills you will gain from my courses will help you earn more with any print on demand site, and more importantly, give you a skill set (Photoshop) that can pay you back in numerous ways down the line…
You can do your own graphic work and save on outsourcing
Earn by teaching others (sell software courses like me!)
Get paid to do Photoshop work for others
Gain a valuable skill to add to a resume
Increase your earnings with print on demand
Make it a priority to invest in your education. No one can take that away from you, and it will reward you in numerous ways throughout your life. Knowledge is power!
Enroll In My Courses
If you'd like to speed up the learning process with print on demand (especially with Photoshop), check out my courses!