You're brand new to this and don't know where to begin.
I get it.
You're not a designer by nature.
Yep! I get that as well.
You know very little or nothing at all about software.
I get that too.
But guess what? That was me in 2011, and now I make a very healthy part-time income with POD.
So wipe all those "I can'ts" or "I'm nots" out of your head. You have just as good of chance of succeeding as a talented designer who has been doing this for ten years.
Here are some to-do's if you're brand new.
Pick Your Software
I have a list of options on this page.
Once you've decided how much you want to invest, then you can begin researching the options that fit within your budget and needs.
I know there are several options, but this page will help you understand a bit more about the difference between the most popular ones.
Pick a Niche
I upload designs in over 40 niches and topics at the time I'm writing this, but if you are new to POD, it's always best to pick one niche you want to focus on to keep from feeling overwhelmed.
However, the first thing you need to verify is that people in this niche are actually buying shirts.
There's no point in uploading a bunch of funny sea monkey shirts if no one is searching for them, right?
Ways To Research Demand
It's not difficult to see which niches and topics have shirts that are selling….
Type in [keyword] shirts on any POD site. Pages and pages of results typically means there's lots of demand
Many sites like Teepublic highlight their best sellers on the homepage
Install the Chrome Amazon DS Quickview extension to examine a site's BSR (Best Sellers Rank) when browsing Amazon.com. (This is my secret weapon to earning thousands of dollars per month on Merch By Amazon. I teach you how to take advantage of this tool in my course and come up with creative ideas.)
Search Pinterest for [keyword] shirts and look at the tees with the most re-pins. Use those for inspiration. (By the way, inspiration does not mean copy.)
Go to http://trends.google.com and type in [keyword] shirts to see what niches are trending or at least have a trend that remains steady.
Choose Where You Want to Upload
I always recommend picking one or two sites to upload to first. Another strategy is to upload 10-20 designs on several different ones to see if any of your designs gain traction.
Stick with the one or two that generate the most sales and focus on that.
There's no right or wrong way to approach this. Do what feels comfortable for you.
Apply For Merch By Amazon (MBA) Now!
This is the grandfather of POD right now. MBA is the ONLY POD that can earn you thousands per month without ANY promotion at all.
Just look at my last 7 days. And this is during a time when people are complaining about sales being slow (The Summer Sales Slump).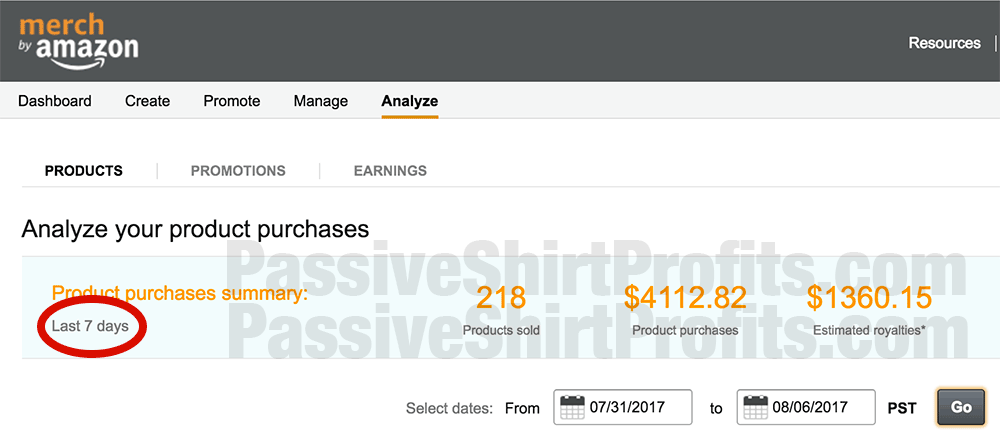 Once you get more slots (tier up), understand the power of keywords and how to describe your designs, you will do very well.
If your shirts aren't selling, you need to enroll in my POD Brainstorming Bootcamp course. You will discover what you're doing wrong and how to think outside the box.
Some very skilled designers struggle with Merch simply because they are focusing so much on design principles, aesthetics, etc. but they don't properly describe the design so it gets discovered.
A mediocre design by a non-designer will outsell a professional design with poor keywords in a heartbeat!
Read that above sentence again.
I know this because I have some VERY simple designs that are doing well simply because I am targeting phrases other people are not.
I Will Reveal One Of My Shirts
If you are enrolled in the Bootcamp course, I will be sharing one of my designs that is selling right now.
It's a temporary seller (due to the topic), so I will wait to reveal it to prevent competition. But I've recorded the shirt and BSR while it's selling for proof. So the video is already done and waiting to be uploaded.
I was the very first person to come up with this idea, and of course there are copycats everywhere now.
But I had an advantage because I was first. So even though there are better designs out there now, mine is still selling.
So stay tuned for that, students!
At least you will get to see a real example of something that is selling, learn more about my thought process behind the idea and keyword strategy for describing the shirt.
You will instantly be able to see how you can apply this same concept to other Holidays, events, etc. So yes, I'm giving away one of my ideas, but only for students. 🙂
While You're Waiting on Merch
A lot of people make the mistake of sitting around doing nothing while they wait months for their MBA app to get approved.
Then they panic when their application gets approved because they have no idea where to start.
Before you get in is the perfect time to figure out what software and niches you want to focus on so when that app is approved, you can begin uploading.
In the meantime, you can also upload to other POD platforms while you wait. Get some experience, make some sales and have an idea for what people buy.