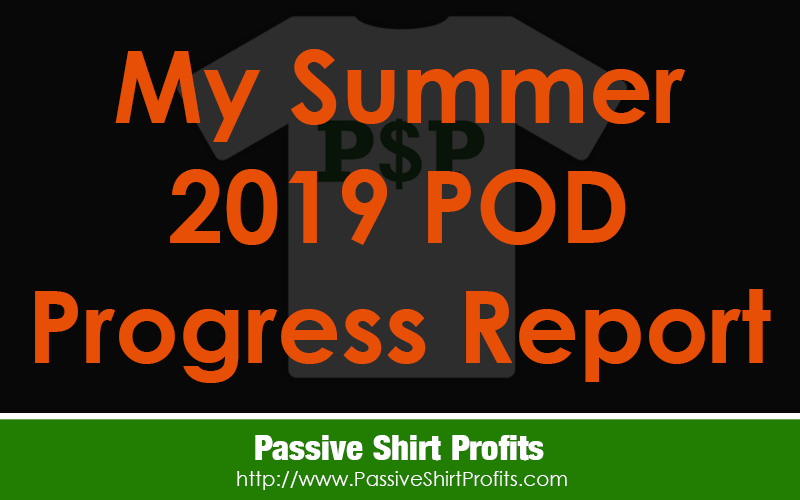 If you want long-term success with print on demand without paying for advertising, you need a volume of unique, niche designs that target active, passionate buyers.
If you're not selling today, you are probably….
Targeting broad, competitive keywords
Not creating designs that are unique enough
Not creating designs that appeal to the audience you are targeting
Not uploading enough designs to give yourself time to sell and find a niche you can focus on
Once you've got your niche, then it becomes more about volume and even more creativity to help you stand out for the long term.
That's where I'm at now. But before I get into what I've been doing to stand out, here's a quick POD update.
POD & Brand Update
My Merch earnings are stagnant, but my overall brand POD income continues to grow.
I'm still earning 4 figures per month organically on Merch (just over 2100 designs), but it's not growing much anymore.
I consistently sell about 20-25 designs per day no matter how much I upload. Nevertheless, my earnings are still encouraging enough to keep uploading when I have time.
As you can see by my total number of designs (2100), maxing out my uploads is not my specialty. I'll be on this 6,000 tier forever. LOL
I still sell more standard tees than any other product. Premiums are next then long sleeves, tanks, pop sockets and then the rest.
June and July were quiet just like previous years, and August has picked up thanks to some back to school designs that have sold.
I have a feeling Q4 will pick up as usual, but I probably won't upload as much as I have in years past. It's just not as much of a priority, thanks to the brand.
The Brand is Live and Kickin!
I'm expecting big things in Q4 with the brand this year. August is already 300% higher than this time last year, so bring on 4th quarter!
Focusing on one niche/brand and growing that for the long term is where it's at! If you don't understand what I mean by "my brand", read this article.
As I said in my other post, there is nothing very motivating about this process at the beginning. You will feel like you are putting waaaaaay more into it than you are getting out of it.
Then suddenly you notice that your persistent uploads in a single niche will start to pay off over time.
One Design a Day Keeps The Sales Drought Away
When you select your niche, set a goal to upload at least one design per day for the first year… or at least the first 6 months.
Just think. After one year, you'll have 180-365 designs targeting ONE niche. If you've found a good niche and upload great designs, you won't need that many before you start selling regularly.
Assuming you've done your research and your designs fit the POD you're uploading to (soooooo important), you should start to see more regular activity after your first 50 designs or so…. maybe even sooner. It really depends, so please don't get caught up on a set number.
The more designs you have that focus on a group of related keywords, the more exposure and keyword coverage you'll have for that niche.
As your different designs sell, it gives your related designs a greater chance of getting exposure, AND you're more likely to generate repeat buyers/visitors because your designs are related.
Slowly but surely you will see opportunities to scale this in whatever way makes sense for YOUR business.
For example,I had my first $100 DAY on Etsy and it was largely due to custom design requests.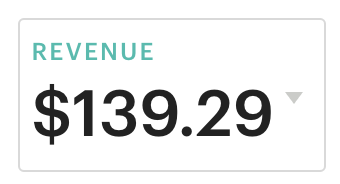 Because Instagram and RedBubble have generated a handful of custom and personalization design requests, I use Etsy to manage the orders.
When someone messages me, I just send them there to order. That way I ensure I get paid FIRST.
Don't ever design anything upfront unless you get paid. I learned that the hard way early on.
What I'm Doing to Stand Out
Since I have a growing niche audience, I love that I can spend much less time on keyword research and more time on creativity with the keywords I'm already selling in.
I thought I'd use this post to share some things I've been doing to help my designs look better and stand out in the crowd.
Jazz Up Your Text
I'm learning to do more in Illustrator, especially with text and patterns. (Thanks YouTube!)
I don't think I'll ever completely abandon Photoshop. There are certain tasks I prefer to do there such as distressing (I have some favorite brushes I use for that.)
Plus, I love, love, love my custom shapes! Not to mention, you can paste them into Illustrator.
This is not a PSA for Adobe products. I get that they are pricey and not for everyone. Learn to use whatever software fits YOUR budget.
Just to give you an idea of what I've been doing…..
I created the following pattern by scribbling lines with my Wacom tablet (affiliate link), and I turned it into a reusable pattern/swatch using Illustrator's pattern maker.
Once you make a pattern, you can reuse it to fill shapes and text like the example below.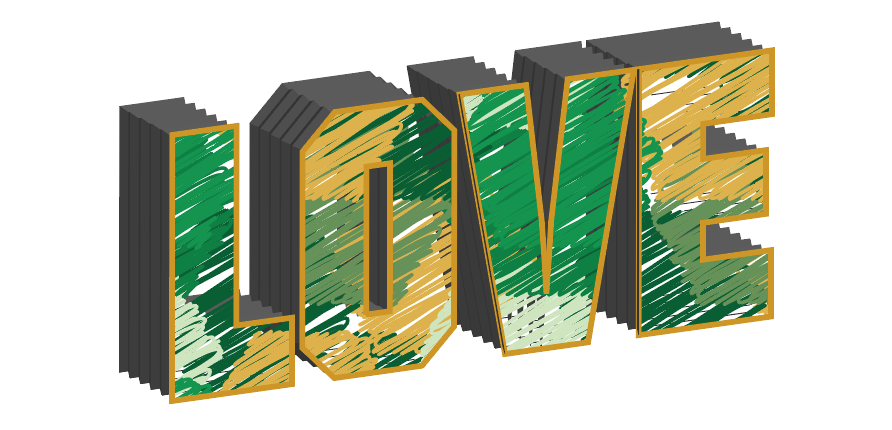 Also, learning how to cut and slice up text has allowed me to do some very interesting things with words and shapes.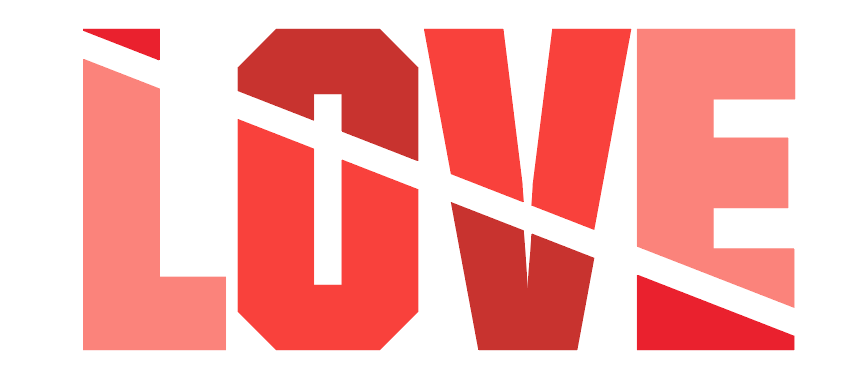 In case you're wondering if I will be doing an Illustrator course, the answer is "I'm not sure."
Honestly, I just don't get there's great demand for learning Illustrator in this audience due to the price point and so many other less expensive, similar products out there like Affinity Designer, Gravit Designer and Inkscape.
If that seems to change, I may consider it. But for now, I just have the Photoshop course. Because of its lower price, it's more accessible to most people than Illustrator.
I'd actually LOVE to do a course on Illustrator in the future. It would be similar to my Photoshop course where I'd highlight the basics and not overwhelm you with the software's 15 gazillion functions and features.
I'm just not sure it will be worth my time because of low demand.
Color Choice Matters!
As a person with no formal design background, I have never been good at choosing colors that go well together.
In fact, color choice used to stress me out!
I absolutely love Adobe's free color tool. I used it on the "LOVE" image above.
Let's say you're doing an environmentalist design and need a monochromatic color scheme (shades and tints of the same hue.)
Just select monochromatic and drag the color selector around to the hue you want on the wheel. In the example below, I chose green.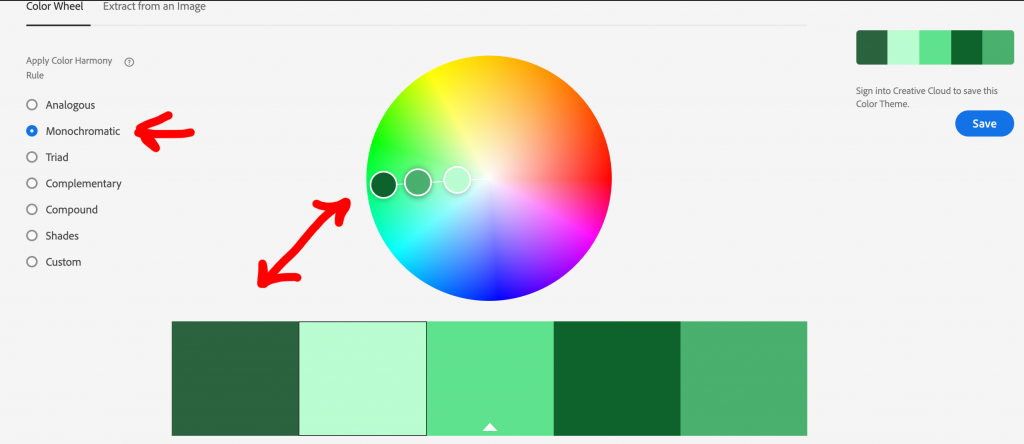 Adobe will give you the color swatches and hex color codes. I usually paste the 5 color swatch into Illustrator and sample the colors.
Color choice can make a HUGE difference in the look and feel of your designs.
The first design below uses the monochromatic scheme I generated on Adobe's site….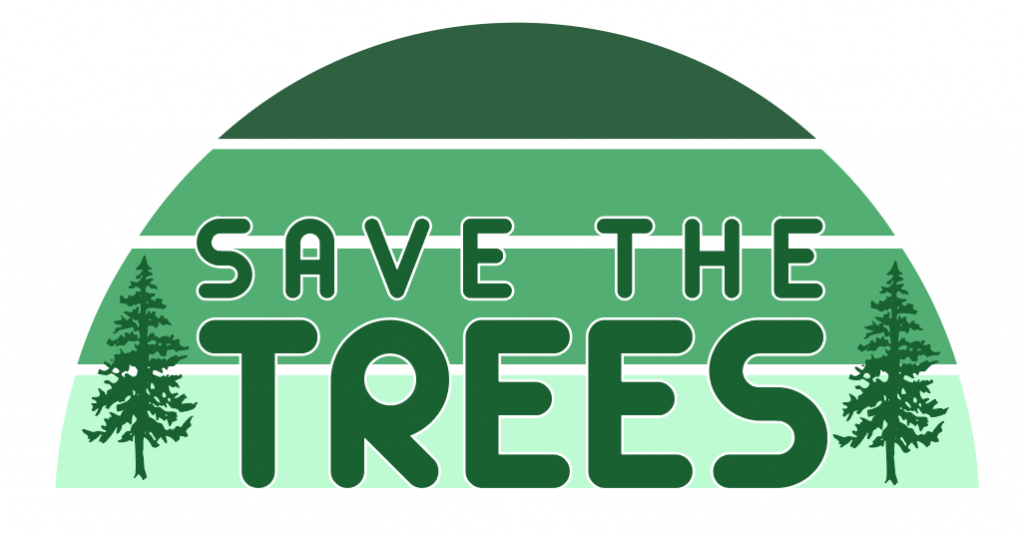 Compare that to the design below where I just picked random green-ish colors on the color wheel.
This is how I used to approach color variation…. very randomly.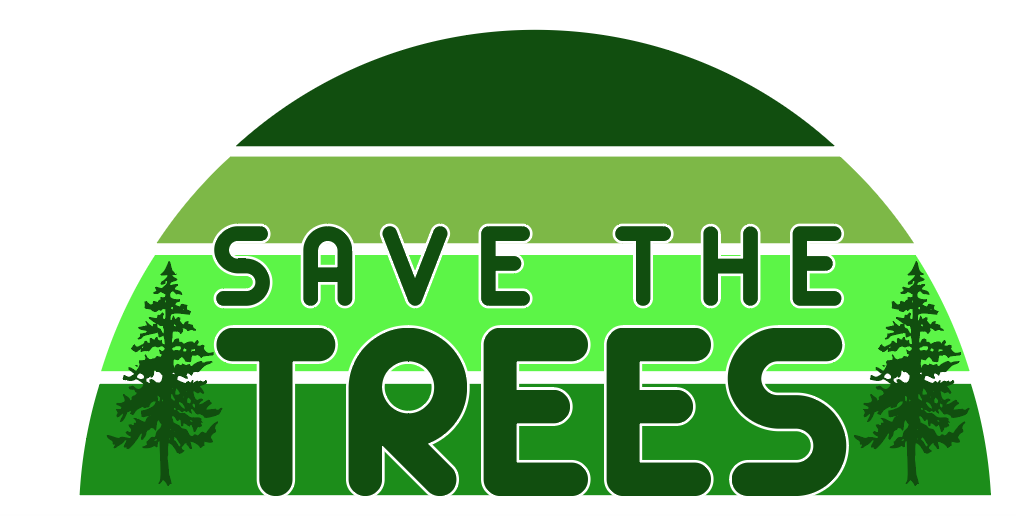 Notice how the monochromatic colors in the first design seem to flow and gel together more.
There's technically no right or wrong here. Sometimes you might want a design that looks more striking and bold like the 2nd image.
But if I want something that looks more harmonious, I'll go with a monochromatic scheme.
Since I've been using the color tool, my designs flow better with regards to color.
RealThread.com has a great article on color theory and choosing color schemes for your T-shirts.
I Use People Mockups on Social Media
I finally got more serious about promoting my designs, and signed up for a subscription to PlaceIt.net (no affiliation), which is a premium mockup service.
They have high-res mockups including people of all ages, races with various products and poses.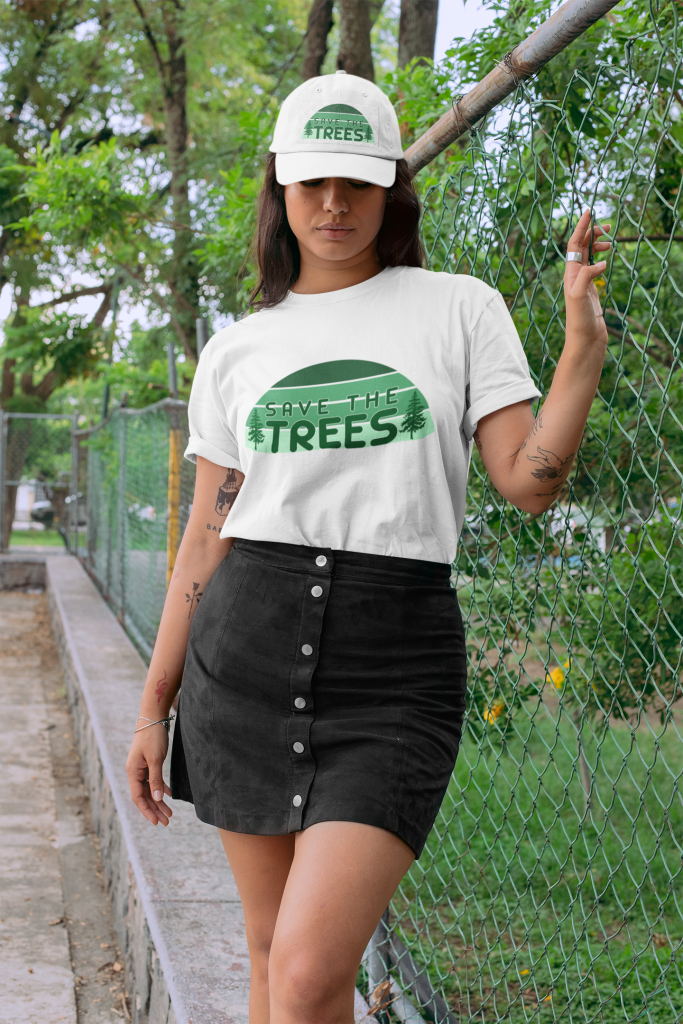 They even offer video mockups!
So far, I've found the video templates to be a little cheesy, so I'll just stick to the images for now. 🙂
For a long time I used their limited, free version because I couldn't justify paying for it. But now that my POD business is more profitable, I don't mind investing.
I bought the yearly package, so it comes out to $15/month. I love how they constantly add models with different poses and products.
This service is great for social media posts on Pinterest and Instagram. Showing people actually wearing your designs adds a human component to your brand.
If you're looking for some free mockups, RedBubble recently introduced some Photoshop templates! You can find them in the Manage Products area.
Consistency & Experimentation are Key
Yes! You CAN make daily, organic sales in 2019. I'm doing it, but it requires commitment, experimentation and dedication over a series of months.
Expect it to be slow in the beginning and try not to overthink everything.
If you remember, I started a new RedBubble shop a month and a half ago. Here are the stats so far…

It's been a very modest start, and it's good for you to see this because this is the norm.
No one starts out selling 10 designs per day after a month or even three months, especially with a brand new account with no following.
I have 70 designs uploaded and 13% of my uploads have sold so far. The most popular design has sold 5 times.
That design happens to be a variation of another design that sold first. Now the variation I created is selling more than the original.
That 13% stat is lower than my normal average of 20-30%. BUT now that I have an idea of what people are "liking" and buying, I will start to create more designs using keywords that are selling and abandon those that aren't.
Over time, I expect that percentage of designs sold to increase a bit as I continue to dominate the keywords/ideas that are working.
In fact, the more recent designs I've uploaded are selling more than the first images because I began taking queues from what images were getting "liked" more.
This account is actually quite broad right now as I figure out what keyword/audience I want to focus on.
I've taken a slightly different approach with this, but that's good because I will show an alternative way of growing a new account.
Even though it's fairly broad, I actually got sales faster than my other niche accounts.
I also have more text designs than anything, which is the opposite of what I normally do. Most of my best sellers on All PODs are usually text AND image combined.
It goes to show, there isn't just one way to approach a new POD account. I feel people often assume there's only one way of doing things, and that's not true.
I'll be using this data and tips for my upcoming POD SEO course so stay tuned!
People Are Taking Notice
The one thing that has surprised me is the number of customization requests I receive every month. I wasn't really expecting that.
Some people aren't willing to pay what my time is worth, so I decline about half the requests.
I was contacted last week by an organization that wants to buy and resell some of my designs at their upcoming Fall event!
I'm thrilled and overwhelmed at the same time! They left their number and website so we can chat.
I honestly have no idea how I'm going to respond because I need to make sure this makes sense for my business and bottom line, especially because I don't house the inventory.
Perhaps I can work out a way for them to buy a few digital images they can print on shirts and resell. I've got a lot to think about.
Nevertheless, it goes to show what happens when you serve a passionate niche with unique designs consistently over time. People will take notice.
This is so encouraging and reminds me that the hard work pays off if you're just patient. Plus, seeing your own creations sell daily is the most rewarding thing ever!
Until next time! Hope things are going great in your POD world! 🙂