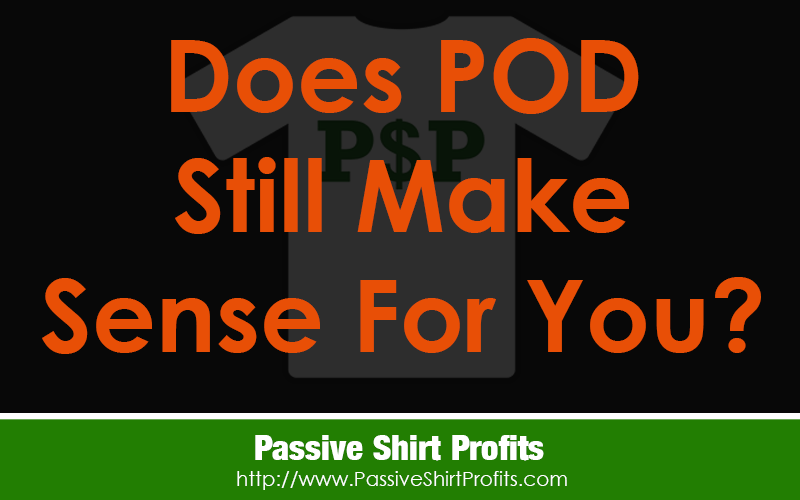 No doubt that's the question many of you have while MBA is unavailable and we're going through a global recession.
You may also be wondering if you should upload all your designs to another POD.
First of all, I'd be selective about which designs you re-upload.
Second, it depends on your individual goals, outlook and situation.
Long Term or Short Term?
Some of you are only into POD for Merch By Amazon income.
You're not interested in building anything long term outside of MBA. Maybe you're just looking for something to quickly replace lost MBA income.
If that's your situation, you need to be strategic about how you spend your time and what you choose to upload.
First of all, it takes some time for a new account to start selling regularly. It took my largest RedBubble account a few months before sales started coming in daily.
So can you imagine how long it would take during a recession where spending is down across the board?
Personally, if I were looking to replace income quickly, I would look to opportunities that have a faster turnaround such as selling homemade masks on Etsy or selling front line worker shirts on Amazon using my own fulfillment (FBM).
FBM sellers are cleaning up on front line worker (nurse, etc.) shirts right now because competition has dropped due to MBA and FBA shutdown.
If you happen to be able to print T-shirts at home, you're in business!
Please Know This…
If you are seeking biz opps online to replace lost income in a hurry, you always have to consider what people are buying (demand) in a time like this.
I saw a video of a woman earning BIG selling hair color on eBay since the pandemic started!
It makes total sense if you think about it. Hair salons are closed so women are coloring their hair and doing all maintenance at home. These are opportunities out here that will yield faster returns for you.
So the point I'm trying to make here is that POD is not quick income for people who are new or were struggling before the pandemic.
This is NOT the time to be spending your last dime on a course if you need that money for food right now.
Most people still doing POD understand the benefit of the long game here, and are selling NOW because of what they did BEFORE this all started. Including me!
There is an exception to that, as you'll see below.
So if you're in need of replacing lost income quickly, look to opps that are related to what is in demand N-O-W.
Many Etsy sellers have pivoted and started creating masks. That's super smart!
And if you are still focusing on POD and not established yet, target keywords that are selling more now. I discussed this in my last video.
Strategies for Uploading to Other PODs
Now, it DOES make sense to upload SOME of your Merch designs to other POD platforms, as long as you are strategic.
For example, I had a few keywords that were still selling well right before the MBA shutdown.
If I didn't already have a main niche to focus on, I'd consider creating a niche shop for keywords that were selling before the shutdown.
Or let's say you are going to create a new niche account and target RELEVANT keywords that are hotter right now (front line workers, religion, introverts, etc.) See my latest video.
Or…
You're thinking long term, and you want to build something that will start generating income once the economy starts getting back on track.
You could setup a Zazzle niche shop dedicated to ER Nurses.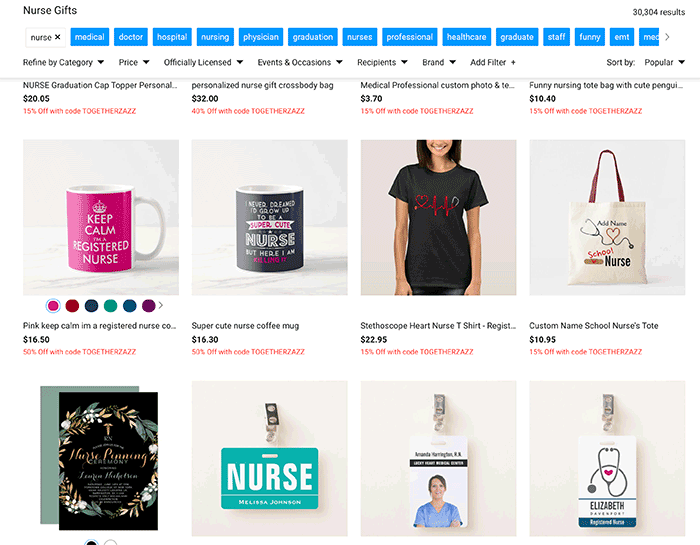 Notice I didn't suggest generic nurses.
Everyone is going to be targeting obvious, generic front-line keywords because it's very hot. Try to niche down the broader audiences and think outside the box.
There are all kinds of sub niches in the medical and front line worker fields. You better believe the gifting will be waaaay up in the coming months and for 4th quarter.
The reason I suggested Zazzle is this site is very big with female topics and niches.
Targeting audiences like this makes a lot more sense because they are hot now, but the demand will still be there even after the pandemic.
The point is to build something that will set you up to earn for the long run.
Having said that, I realize waiting is not an option for some of you. This advice is for those who have the time and can wait on something to flourish down the line.
Patience Will Be Rewarded
If you happen to be one of those people who actually can wait, and this is something you truly enjoy, you will be rewarded in the long run if you continue to upload and think strategically.
All the designing and uploading I did in 2018 and 2019 has allowed me to still generate income daily through this economic downturn.
However, you should know that my sales are coming in regularly because of the work I did BEFORE the pandemic. I have hundreds, if not thousands of designs out here.
If you're selling now, keep scaling what is working. If it's working now, it will work even better when things start to turn around.
A lot of people are choosing to focus on keywords that are still moving now — front line workers, religion, introverts, social distancing, etc.
That makes sense if you are trying to capitalize on what's selling now.
But…
Will social distancing designs still be selling next year? Probably not. So is all that work worth the short term gains?
I suppose that depends on how well they sell for you.
Nevertheless, I understand people are looking for short-term income, and have found success with those kinds of keywords.
Again, it all depends on YOUR needs and goals.
I'd personally rather build something that is sustainable for the long run. That's exactly why I've been emphasizing you start focusing on niches you can build for the long run and create a website, etc. etc.
The interest in POD will drop for many because it won't seem worth it. That will open up long-term opportunities for those who stick with it once the economy turns around.
What I've Sold In My Non-Niche Accounts
Even though my niche accounts are outperforming my random accounts, I thought I'd list some broad topics I've sold in since late March that are not related to my main niche…
Birthday shirts (This has been my best topic since the shutdown outside of my main niche. Someone else said the same thing in my YouTube comments. No surprise as people are still buying gifts.)

This is a message from one of my random RB accounts.

Niche Teacher Shirts (I don't sell as many of these as I used to, but they remained consistent sellers up until the MBA shutdown.)
Mother's Day (No surprise here. This is going to be huge this year with everyone missing their moms. I predict the Mom/Nurse space will go nuts!)
Graduation (I've sold a lot of these for 2020, but I'd be careful with this as I've just learned many graduations are being postponed.)

However, this is a space where you can think ahead and get creative. Think along the lines of class of 2020 cancelled shirts, especially with "cancel culture!"

Oh man…. I'm getting ideas just typing. LOL

Families are buying yard signs for seniors to help celebrate cancelled graduation celebrations. So I can imagine graduates buying shirts to pose for the 'Gram in their Senior tees.

In fact, "cancelled" designs may go over well in a lot of spaces, especially sports! People are missing their sports like crazy!


Religion (No surprise here. People are using their faith to get through this time.)
Geek designs (Ummm…..no idea why! LOL)
Most of my sales since the quarantine have come from MBA (before they shutdown obviously) RedBubble, TeePublic and Spreadshirt. That's no surprise since those are where I'm most active.
Please don't take this to mean you can't also sell on other platforms. I'm very biased given my own results.
I just sold my first geek-themed sticker on Society6! A whole whoppin' 30 cents! Look out now! 🙂
Always remember that whatever the POD is featuring on their homepage is what's hot right now.
There's a reason Mother's Day cards have been at the forefront on Zazzle.com. Paper products do well there.
This is NOT the time to start blindly uploading random designs just because you can. That's a great way to waste time and energy! Strategy is more important than ever.
Look at the number of greeting cards I've sold on RedBubble in the last few days, and I NEVER sell greeting cards.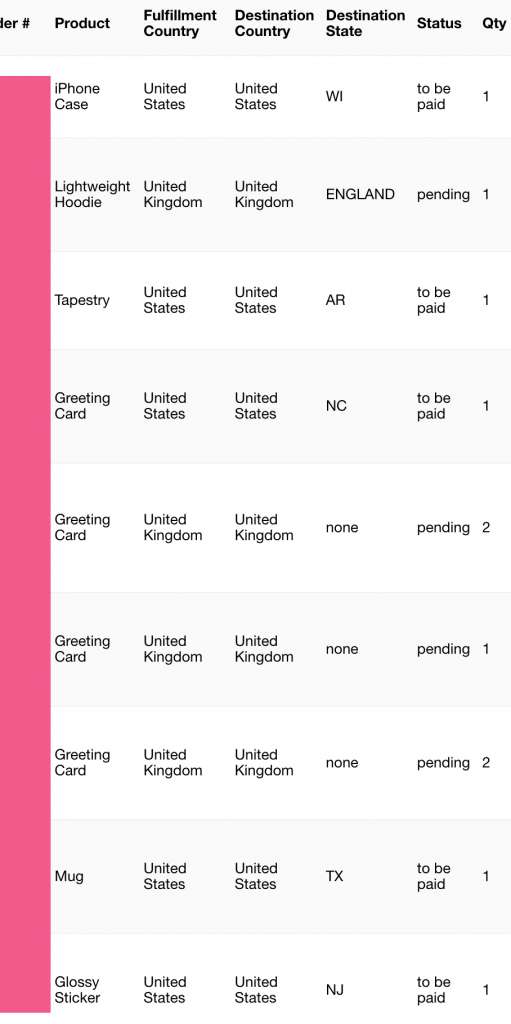 I have blocked out the order numbers for privacy reasons.
The fact that I NEVER sell greeting cards, but I'm selling now says a lot.
Again… you have to think about what makes sense NOW given our current situation the world is in.
Think about how can you capitalize on this.
Why would people be buying more greeting cards than usual? Mother's Day, front line worker appreciation, milestone birthdays that won't be celebrated publicly, you name it.
They even published a piece on the news that said greeting card sending is way up.
Now, you might say, "Lisa, c'mon girl…. greeting cards? Really? I can't feed my family on some measly greeting card royalties!"
You sure can't unless you sell about 2.5 million of them. 🙂
However, if you can sell some greeting cards today, you're positioning your shop and other listings to rank well down the line.
People said the same thing to me about RedBubble stickers in 2017, but they opened up the door to sell more things after my shop got established.
I sold nothing but stickers for the first few months, but eventually other products began ranking and selling as you can see from that screenshot.
Sales of ANY design on ANY product will help that design rank better in the long run. It gives your account more exposure.
To be clear, I never specifically targeted greeting card shoppers. It's just that RedBubble ranks designs that have already sold.
So my guess is someone searched for [keyword] greeting card and my designs that have previously sold ranked so the customer could discover it.
Every sale on a design will automatically boost that design's rank. The better they sell, the better they will rank for product searches. That goes for any platform.
What I'm Up To…
In addition to scaling designs that are still selling now, this pandemic has forced me to focus on what I've been putting off for a very long time — my website for my main niche.
For the longest, there's been nothing there but a landing page with a form for custom design requests.
I have some small businesses I design for who found my shop on RedBubble. They sell custom art I create with their own private, offline T-shirt businesses. This is another way POD has allowed me to diversify my income.
So far, I have one content page on the website (created last year) ranking #4 on Google for a very long tail keyword, but it's time to build more.
I'm using Keyword Surfer to find long tail keywords for content. According to Google Analytics, the site has started to bring a trickle of traffic into my shop, but I have a long way to go!
As you can see, I'm in this for the long haul, and I really do regret not working on the website part sooner. This is waaaaay overdue.
There's no excuse for why I don't have a decent-sized email list right now with the number of fans and custom requests I receive. No excuse!
Do What's Best For YOU
There's definitely something to be said about working hard now so you can reap the rewards later. However, I understand it might be hard to focus on this with all the uncertainty going on.
Some of you have told me you aren't creative right now, and that makes total sense. We're all dealing with this differently.
I'm the opposite. I actually NEED to create. It's therapeutic for me.
So how you proceed really depends on your current situation, needs and outlook.
Because of that, I'm really struggling with what kind of content to put out now. So feel free to reach out to me here in the comments or via email. I welcome any questions or suggestions!
I'm doing my best to be transparent, realistic, and credible without sounding braggadocious at the same time.
It's such a slippery slope, ya know?
Remember, if your income situation is tight, seek out opps that yield faster turnarounds surrounding high-demand products. That may mean looking outside of print on demand.
If you're in a hurry or in dire straits, this is not the time to start businesses that take time and creativity to grow, unless you somehow thrive in that kind of environment. I know I wouldn't!
But if you can play the long-term game, there's going to be big opportunities down the line. Keep grinding!
I hope and pray that you and your family are healthy. Take care and reach out for questions!