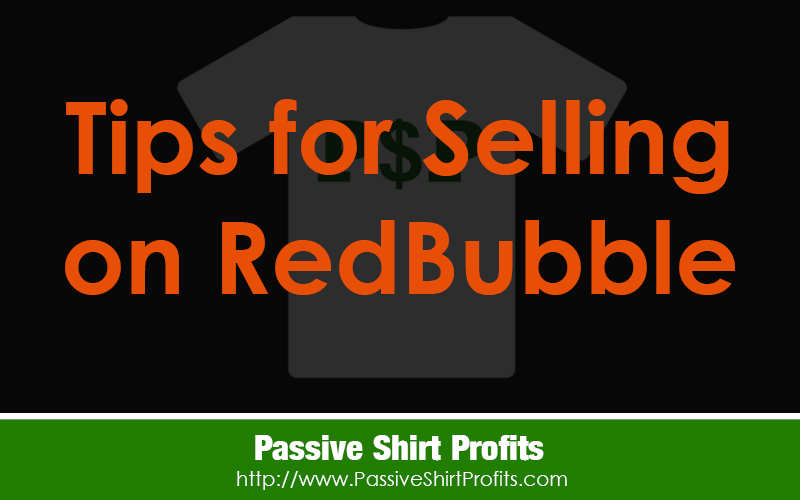 I've noticed many people cite RedBubble as their 2nd place POD behind Merch By Amazon.
At first, I couldn't relate.
Most of the things that were selling for me on Merch and other platforms were not selling on RedBubble.
It seemed like a waste of time, and I clearly was not uploading the kind of art that RedBubble customers want.
In late 2017, I stumbled upon a new niche I began selling in on Merch By Amazon.
I opened up a new RedBubble niche shop just for these designs, and every time something would sell on Merch, I'd upload that same design to RedBubble.
For the first couple of months, the results were dismal. I'd be lucky to make $3 in a month, and most of those earnings came from stickers.
Fast forward several months later, not only am I making sales almost everyday, but I'm selling a lot of things besides T-shirts such as wall art, posters, canvas art and more.
Here's a snapshot of my sales report taken on from July 2nd. I blocked out the product names for obvious reasons. 🙂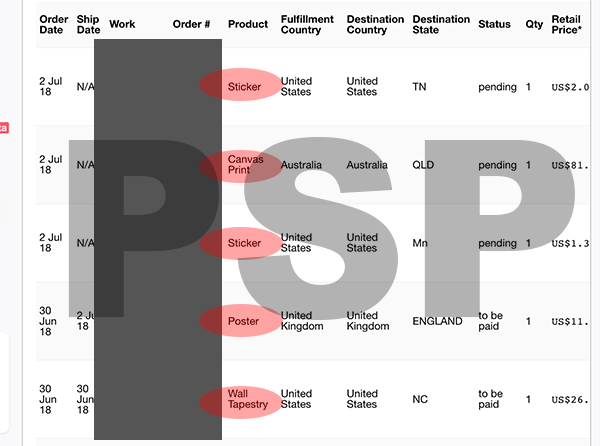 Notice I sold 4 different products in just 3 days.
These are all organic sales, by the way. I do not drive traffic to my shop with a website or social media.
I'm not making anything close to what I'm making on Merch By Amazon, but when it comes to POD income, a $150 here, $300 there, it all adds up!
Here's some lessons I've learned about RedBubble thus far…
Add Your Designs to All/Most Products
The reason I say "most" is some art may not look good on all products.
When I first joined RedBubble, I only added designs to shirts and stickers because I was told they sold the most.
I really didn't expect to sell any other products, but RedBubble proved me wrong.
I had one design that kept selling on a shirt, so I added it to the remaining products. Slowly but surely additional items started selling.
If a design is popular, it's more likely to sell on other products.
Since that revelation, I usually add my design to almost all the products – even though it's a tedious process.
SIDENOTE: I wish Merch would adopt RedBubble's multi-product upload process!
Tile Your Products
I love that RedBubble has a tile feature that allows you to repeat the design across the product. This looks great on all-over print products like phone cases, leggings, etc.
I like to use Adobe Illustrator's pattern maker to create patterns. These look good on all-over prints.
You can watch me create a camo pattern without the pattern maker below.
In this particular case, I didn't want the pattern to repeat on the product so I didn't use the pattern maker.
Bump Up Your Commissions!
Stickers sell really well on RedBubble, but the commissions are super low. I have increased my commissions to 40%. I know some who have them set at 100%.
My advice is to increase prices in increments. If you sell well at 40%, try 50%, etc.
I love that you can increase your commissions in bulk by product groups. Very handy!
Just go to Account Details >> Product Pricing.
RedBubble Gets Lots of Google Love
RB products get indexed nicely on Google, especially on Google Images.
I typed in [keyword] phone case and noticed my phone case was ranking #5! I do believe that some of my best-selling items are getting found on Google Images, not the RB site.
That would also explain why I have some designs that do well even though they aren't artistic.
TIP: When checking your product rankings on Google, always use an Incognito Window on Chrome because it lets you view search results without influence from your previous browsing history.

Just go to File >> New Incognito Window before searching on Google.
By the way, you don't have to add the product titles to your description or keyword field. Just by selecting/activating a product, RB will add the necessary tag for SEO (search engine optimization).
So if you enable phone cases, your product will be labeled and tagged with phone case keywords on Google. No need to add "phone case" to your description or keywords.
RB also does a lot of ad retargeting, which helps your products get more visibility across the Web.
That means when someone views your design, RedBubble uses browser cookies and that design will follow that person across the Web, appearing as an ad on other websites.
Make Use Of RB Collections
Collections are like product groups. They allow you to group your designs by topic.
Since RB products get indexed well in Google, I figure it can't hurt to have another way to label and define your products with relevant keywords.
What Sells Well on RB?
If you're looking for a type of art that does well on RB, one thing that seems to work very well is merging pop culture with art.
Imagine taking a popular saying and putting it on a very artistic coffee mug.
Geometric patterns with interesting textures also do well, especially due to the all-over-print products.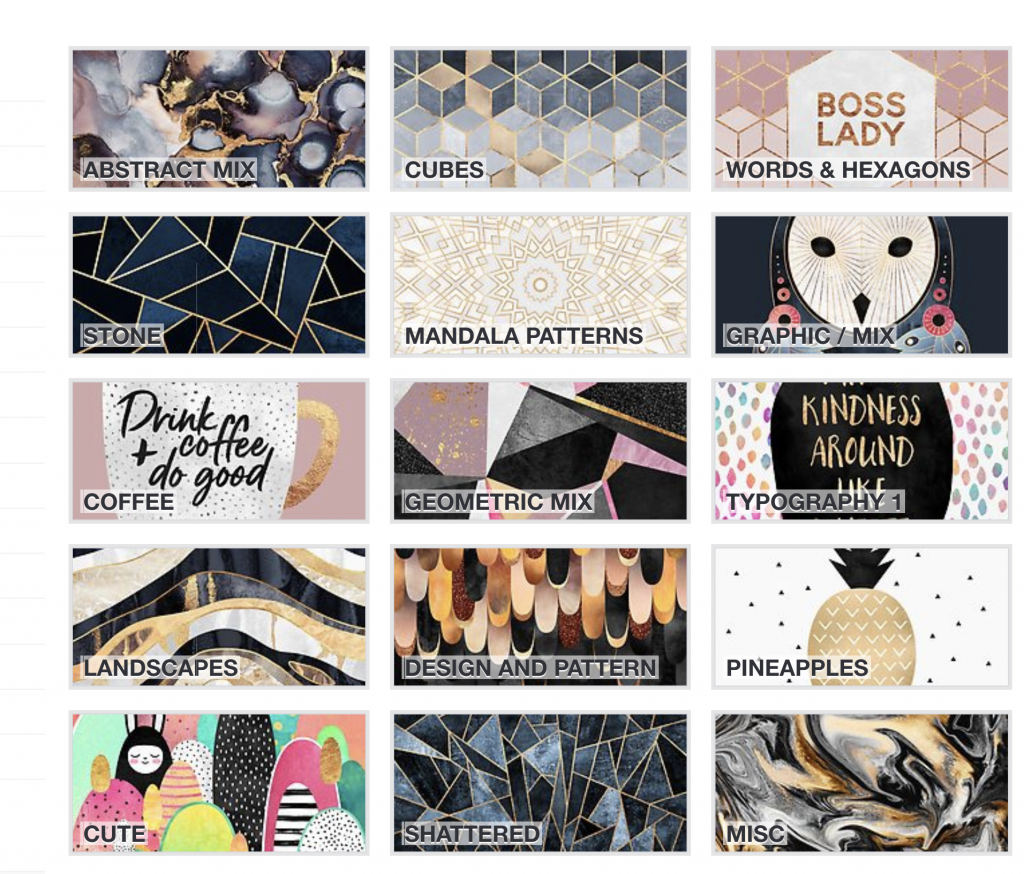 People who are in touch with pop culture and create artistic interpretations of sayings, symbols and concepts do really well.
It Is Definitely a Numbers Game
Once I hit over 70 uploads I noticed views, likes and sales started to come in more consistently. I have over 100 designs uploaded now.
So far, about 35% of my uploads in this new account have sold at least once. So that's pretty close to the 80/20 rule most people see with POD.
I love that RB shows us how many views each design receives, and always find it interesting to look at the view to sale ratio.
You'd think the more views a design has, the more sales you'll get. However, I have some art with hundreds of views and no sales. Yet I'll have another design with 2 views and one sale.
You just never know!
Infringing Is Not OK
Just because you see people infringing on celebrity names, faces, company brands, song lyrics, movies, etc. on RedBubble, doesn't mean it's OK.
You can get away with a lot, but they do act when it's reported.
I've often wondered why they aren't better about policing the initial uploads, but someone told me their terms state they are not responsible for the work uploaded.
Responsibility falls solely on the uploader.
Not sure how that flies from a legal standpoint, but that's how they seem to roll.
—————————
If you haven't tried RedBubble, give it a try! And if you already have art selling elsewhere, it doesn't hurt to start with those designs first.
I ignored them for a long time because I assumed my designs weren't artistic enough. While I do think that type of art sells best, your designs can also get found through Google.
Just be patient. The key to success (like any other POD) is figuring out what sells best and that takes time. It sure did for me!