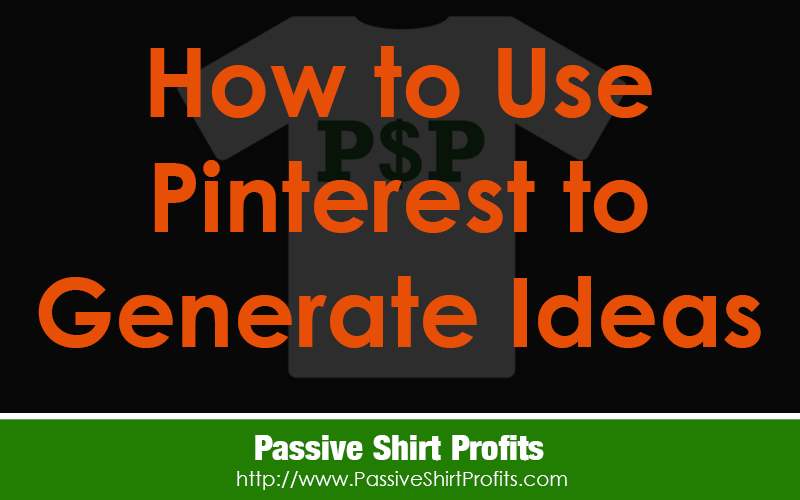 One of my diversification strategies for print on demand is selling in multiple markets and niches.
Merch By Amazon (MBA) made that possible thanks to Amazon's large customer base.
Before MBA, I would have never thought to sell a motorcycle shirt, for example.
First of all, I've never had an interest in riding one. (I'll settle for a car, thanks.) 🙂
Second, I know very little about the topic except for the obvious things.
BUT….
If I see a keyword opportunity in a random niche, you better believe I'm going to tackle it whether I have a background on the topic or not.
Pinterest To The Rescue
While I still believe you should START with topics you know best, you can diversify your income by expanding to other markets.
If you're going to tackle a subject you know very little about, it's helpful to know what that audience likes.
Pinterest is the perfect site for this since they tend to rank the most popular pins near the top.
For example, if you do a search for "teacher shirts", it doesn't take long to notice several common themes.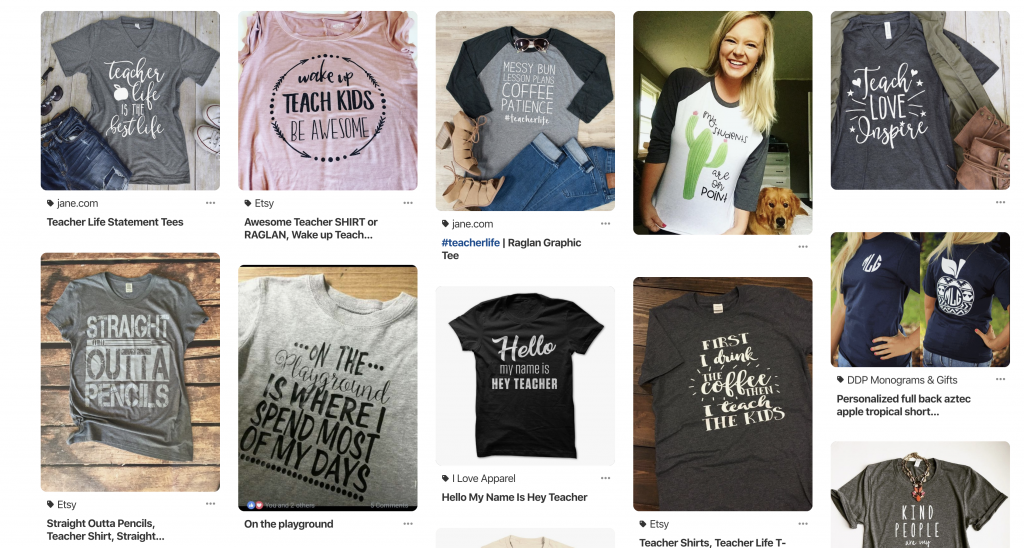 After scrolling through the top ranked shirts, here are some elements that seem to be popular on teacher shirts…
Arrows
Script fonts (women love these)
Apples
Coffee
Pop culture phrases (You Gon' Learn Today!)
Spun pop culture phrases (Teachers Gonna Teach, Teach, Teach…)
Crayons and pencils
Just after seeing the Teachers Gonna Teach, Teach, Teach example, I thought of a way to use that same idea with different school subjects.
Numbers Gonna [insert verb here]…. for a Math shirt.
Planets Gonna [insert verb here] …. for a Science shirt.
You get the idea.
You can also combine multiple popular elements on one shirt.
Depending on the keyword, this can work to your advantage for ranking a shirt because your title can cover more than just one topic.
Use trending design elements you find for inspiration and make a unique shirt for a niched down person that hasn't been targeted yet. (Like the above example with Math and Science)
Developing one idea and creating boilerplate designs across multiple niches has been a big part of my POD strategy, especially with Merch.
It's what's helped me sell in so many different niches and topics.
I've gotten inspiration from Pinterest for…
font ideas
text and design layout (I was really weak in this area when I first started with POD.)
common design elements or icons for a niche
words and phrases
Pinterest Is Great for Social Media Slouchers
If you're like me and don't spend a great deal of time on social media, Pinterest can give you insight on popular phrases and trends.
For example, if you keep noticing people pinning images/shirts with the phrase "Nailed It!" then that must be a thing.
Come up with a way to use that phrase with another topic/niche people haven't thought of yet.
I've noticed a LOT of pop culture saying inspired tees in many different niches on Pinterest.
So if you're one who feels you don't know much about the latest slang or catch phrases, Pinterest is here for tons of inspiration.
Don't Just Search For [Keyword] Shirts
Sometimes you can get inspiration from other images that are posted online.
Just search for your main keyword without "shirts", and you will still discover ideas and gain inspiration.
There might be a popular meme, billboard or digital image that has gotten a lot of re-pins/shares.
I've noticed this with current event shirts. For example, if there is a newsworthy topic, you might see protest signs online with a catchy phrase on it.
Some of the top-selling shirts for the family separation topic and other news events came from images of protest signs.
Yes! You can gain inspiration for those kinds of subjects on Pinterest too. It's not just for beauty or visual topics. Not anymore. People pin/share EVERYTHING now.
Just be sure to check Trademarks if you're using a phrase directly from a meme, billboard, etc. That's why I prefer to come up with my own sayings and phrases.
Copying vs. Inspiration
There's a big difference between copying or slightly modifying an idea vs. gaining inspiration from popular elements to create something unique.
The latter is what you want to do.
For example, some might see the Teachers Gonna Teach, Teach, Teach shirt and use those exact words with a different font.
It may work, but that's not a strategy I recommend.
A better idea would be to take that CONCEPT (a spin on a popular song) and apply it to a specific school subject and create your own phrase like I shared above.
Having Design Skills Is Very Helpful, But Overrated
Truthfully, I CANNOT credit any amazing design skills to my POD success.
Nope! That's not my strength.
Yes, I can do a lot of things in Photoshop, but that's not the same as having an eye for design.
Idea generation has made up for what I lack in the design area. It really will take you far.
Once you really GET this and combine it with the right keywords/niches, you will sell more shirts.
Keep practicing. It does get easier with time. 🙂