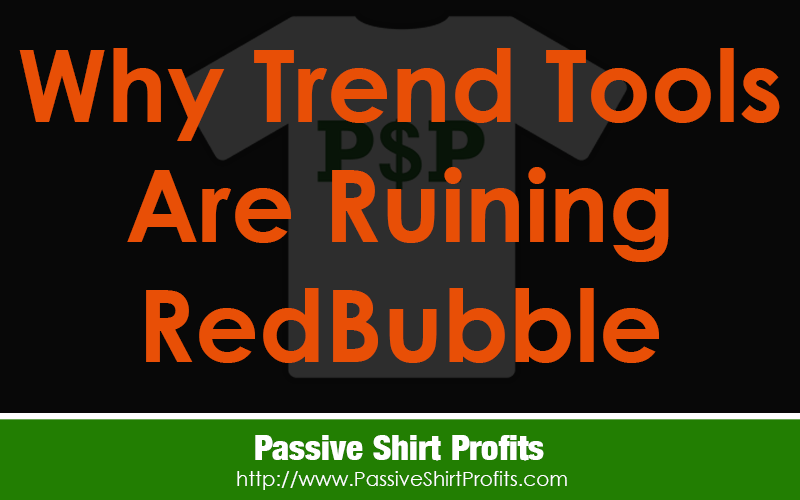 There's an influx of RedBubble trend / popular tag tools popping up everywhere. I won't even pretend to know them all because I don't spend much time keeping up.
The idea is to use the tool to find what's trending so you can make a design that targets the keyword.
Sounds great, right?
I mean…. won't that help all of us make more money if we know what keywords people are searching for on RedBubble?
In theory, these tools sound like a great idea. However, I'm noticing several issues developing…
As more content creators (YouTubers) publish information about the tools and keywords, it creates more competition for the same phrases.
RedBubble designers have been complaining about lower traffic and declining sales lately.
The worst part is designers are now using spammy techniques to load their tags with these popular phrases, even if their designs are unrelated to the keyword.
This clutters up the search results with low quality, unrelated designs. It also makes it harder for quality designs to get found.
And as someone in my private student group pointed out, the trend numbers are inflated because a lot of the searches are actually done by the designers looking to make money, not RedBubble customers.
Over time, this will make trend and keyword tools less and less valuable for the average RedBubble user.
You Can Sell Without Trends
I've had consistent income growth on Redbubble since I started uploading consistently in 2017. I can't say the same for Amazon, even though it's still my best POD platform.
That's saying a lot given the influx of YouTubers creating more content about RedBubble in 2020.
Even though this has created more competition, my guess is that most people are focusing on trends due to the illusion of quick income.
Trends can yield faster results, but it doesn't usually last. Plus, they quickly create lots of competition.
I'm a Long-Game Entrepreneur
I've spent 14 years in full-time, solo entrepreneurship.
One of my keys to longevity with earning online is diversification and playing the long game.
My strategy and approach to earning online does not and will NEVER appeal to the masses because it's not flashy, clickbaity and it doesn't work quickly.
Most people seek out ways to make money online because they need money yesterday.
So the average person doesn't want to hear that it's going to take time, and they may have to fail over and over again before succeeding.
The irony of that is it's the reality for 98% of people who actually have long-term success. Fast money is not usually long or lasting money.
Trends fall into the "fast money" category. While I have worked trends (mostly Amazon), I prefer a slower, more stable approach to keywords for my niche shops.
That's why I knew early in my online career that I would never be able to rely on selling a lot of products about how to make money.
My approach and strategy just doesn't have mass appeal due to the fact most people want things to work very quickly.
I can't and will never guarantee that. Period.
So I'm thankful I've been able to create income streams for myself outside of that space.
When it comes to "hyped up" income opps and strategies, I learned that anything that produces quick(ish), free money will never last — especially if "trends" or "best sellers" are shared with the public.
So when I find "quick money" opps that everyone is doing, I always work to create additional, lasting income streams in the background.
I've applied this slow-build strategy to RedBubble and it WORKS.
It's why I've been able to sell so many different products on RedBubble without relying on trends that will become quickly saturated.
I got lucky and found some keywords through Merch By Amazon that also sell on RedBubble. I didn't use any tools to find these phrases.
It was just trial and error through uploading my Amazon best sellers and testing.
I continued to improve my art and I built niche shops with patience. As a result, many of the products began ranking on Google Images.
Sure, my growth has been slower than it was for Merch By Amazon, but my keywords aren't appearing on any trend tools.
This is a big reason why my income has been more stable and slowly growing.
Some of my sales are also coming from outside of RedBubble (Google, Pinterest, etc.)
My long-term goal is to build brands I can sell when I'm ready to retire from POD and/or entrepreneurship.
That's a big part of why I do everything under an alias and don't share my work. I want to preserve the integrity and traffic without outside influence.
Should You Ignore Trend Tools?
No. I'm not saying that. They really have helped a lot of people sell.
However, you should definitely lower your expectations regarding the usefulness of them for the long run. Also, keep in mind the numbers are inflated by designers researching.
While trends can earn you money fast, it's not going to last due to the competition, spamming, etc.
Plus, you will have to keep chasing the next trend and the next and the next to keep your sales coming in.
Whew! So exhausting!
Now, if trend-chasing is something you don't mind doing, go for it. Not everyone is going to have the same goal with their POD business.
I tend to go against the grain when it comes to earning online, and that's OK.
If you are constantly doing what everyone else is doing, your success will be limited. When you think outside the box and find your own path, your income will be more stable.
I've applied this approach to so many online opps over the years, and it's worked well for me for a very long time.
Here's a Long-Term Strategy to Try
If you insist on using tools, try to focus on lower competition phrases, or develop a long-game strategy.
Here's what I mean…
Let's say a trend tool showed that a watercolor keyword is increasing in popularity.

You also noticed from research that cat art tends to rank well.
You could create a shop that combines these two elements that you know are already popular.
Set a goal to create the best watercolor cat art anyone has ever seen! Since RedBubble is big with pop culture, the cats could be doing or saying all kinds of trendy things.
See… this is how you play the LONG game, and is still works!
Actually, the long game will always work with entrepreneurship because it's the road less traveled and least desired.
Most POD-ers won't want to touch this strategy because it's not fast enough and there's little proof it works.
And that's exactly why you should do it! 🙂
If you happen to enjoy this work and you actually ARE patient, you can create something that is stable and long-term while everyone else is chasing temporary solutions.
Aim To Get Featured
I've also noticed that one key to getting more traffic on RedBubble is to get featured. They like to highlight shops with themes.

When I say "themes" I mean the art style is very similar. So it might be a shop that only does animal line art.
A niche shop doesn't necessarily have to target a specific audience. It could also be a themed shop based on a kind of art.
RedBubble also tends to feature more artistic shops. This is actually a good thing because it's consistent with the RedBubble brand, and good for hard-working, talented designers.
I came across one shop with only 11 designs, but they were featured on the homepage, and the exposure drove thousands of followers in a short amount of time.
So while these trend tools are ruining aspects of RedBubble, I do believe there is plenty of opportunity there for hard-working, talented people who think outside the box.
I also believe RedBubble's algorithm will eventually get tweaked to combat a lot of the spamming. That will benefit their bottom line as well as the designers.
So if you want longevity with print on demand, do this…
Play the long game, and don't rely so heavily on trends.

Keep uploading even when things are slow.

Spend more time in the beginning developing a shop strategy that aligns with what you know sells on that platform instead of throwing spaghetti on a wall hoping that it sticks.
I used the spaghetti strategy, but that was before the influx of POD gurus. In 2021, you have to be more methodical and strategic.
Two years from now, you'll be glad you invested the time in planning.
What do you think about trend tools? Have they helped you?
Are you a long-game or short-game print on demand designer?
Here's to a happy, healthy and prosperous 2021!!