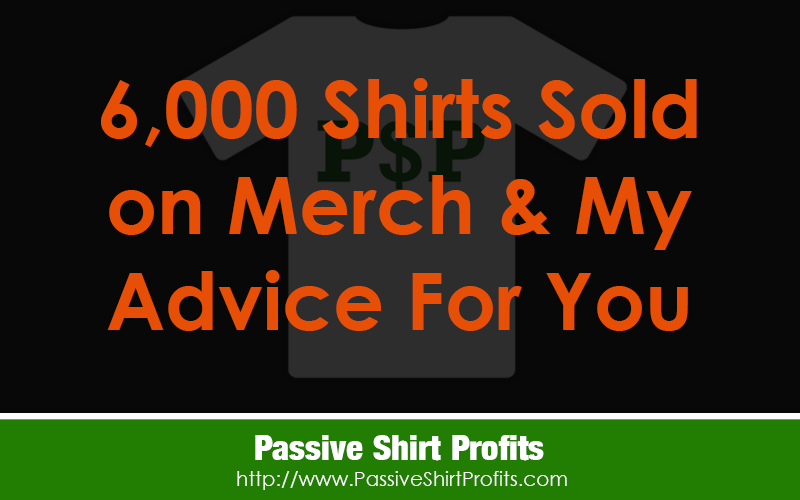 I'm approaching my one year anniversary on Merch in a few weeks and MerchTools revealed that I just reached 6,000 shirts sold!
Whooo hoooooo!
I thought I'd share some lessons I've learned on the journey thus far.
Don't Get Locked Into One Strategy
In one podcast you might hear me mention a strategy I use and then mention the complete opposite strategy in a later show.
That's because my strategy changes and I go back and forth.
When I first started with Merch, I went after Holidays and hot topics only. Now I go after evergreen and less competitive topics in addition to Holidays.
I now have a nice mix of hot, lukewarm and low competition shirts.
When I was new to Merch, I attempted to "out design" the popular designs by just changing it up a bit. That worked. But now I am getting better at coming with unique ideas using rhymes, jokes, puns, cartoons, etc.
I rely a lot more on completely original ideas compared to when I started.
The bottom line is, once I tiered up, I started trying a variety of different ideas, so my strategy is always changing and I keep experimenting.
I also have more text designs than I did on lower tiers. I still prefer image and text, however.
Just be careful of only doing what someone else suggests. Think outside the box. Experiment.
I Don't Always Go After Hot or Lukewarm Keywords
While I typically prefer to choose keywords that are at least lukewarm to hot (200K BSR or lower with lots of shirts selling), I have been know to tackle keywords that are not very hot at all.
As long as I see a few shirts are selling, I'll compete.
I may not sell as many of those shirts, but the shirts will sell quickly due to less competition.
For example, in the last week I have targeted a keyword with less than 40 shirts. Only 7 of them have sold, and 2 of them are mine. The average BSR is 400K for the 7 shirts.
I've only sold 1 of each, but they sold immediately and have only been live for 5 days.
Also, these shirts will become relevant again for a future Holiday so I have tagged them accordingly.
One thing I've learned is you really have to think ahead and outside the box when it comes to your keywords and strategy.
Some people ONLY go after hot keywords. I prefer to mix it up.
Parallel Topics Are Your Friend
I like going after topics that have a lot of synonyms and parallel topics.
For example, if you target "vegan shirt" that might seem like a very saturated topic if you focus on total number of shirts. But there are so many keywords that fit that one topic.
You can mention herbivores, vegetarians, veganista, health nut, kale, and so many different keywords when you describe who the shirt is for.
That will help the shirt rank for a variety of different keywords.
When writing your descriptions, use a Thesaurus if you have to!
That's why I like choosing topics I'm familiar with because you are more familiar with keywords people might use to search.
Holiday Sales Are In The Niches
If you are trying to compete for the keyword "Halloween Shirt" then you are approaching this all wrong.
There are over 1 million "Halloween shirt" results.
Yikes!
Dig deep. Create a Halloween shirt for a specific person, group or niche. And if it does well, you might end up ranking for a more generic term.
I've made it to the first page for [Holiday] shirt several times, but I always target a niche. A lot of people think you have to target "[Holiday] tshirt" to rank on page 1.
No, if you have a top seller in a given niche, you can still rank for the generic shirt term.
For example, "Halloween shirt for a police officer" can rank for "Halloween shirt" if it sells enough.
Niche down! I can't say this enough.
Holidays account for a very large portion of my sales. My lowest months are typically months with no major Holidays. August was the exception thanks to The Eclipse and other seasonal topics.
Just to give you an idea, I sold almost 1,000 shirts in August, but I'm estimating about 700 for September with a few days left.
That will still make September my 3rd highest month (behind February and August).
And just in case you're wondering, Merch is far from saturated. I did my best to shut that down in this podcast.
Make Your Characters Active
I like creating characters that actually do something on the shirt (such as running, eating, carrying something etc.)
Even Amazon mentioned in their Resource section that these types of shirts sell well.
This is a great way to combine keyword ideas. So if you create a dog kicking a soccer ball, you now have a shirt for dog lovers and soccer players.
Even better… make it a specific kind of dog (Poodle, Beagle etc.) Now you have a "Funny Poodle T-Shirt for Soccer Players"
Then you can expand on related phrases in your bullet points even more.
The other reason I like creating characters is that there is much less competition for these ideas because many people only create text designs.
It's easy for anyone to copy a text design, but not as easy for everyone to create a character with details.
Learning how to create shape-based objects in Photoshop and Illustrator has been one of my best weapons thus far.
Prior to Merch, I never created detailed designs, characters or cartoons. I would buy rights to images and make minor changes.
Use Pop Culture
I've done fairly well creating shirts that use pop culture phrasing and news topics. Just be careful because people have been known to trademark phrases after they get hot.
Cash Me Ousside comes to mind. I had a shirt with that phrase that was doing well, but I pulled it after she trademarked the phrase.
For that reason, I don't use this strategy as much now.
If you don't keep up with sayings, ask your kids, younger siblings, or other family members to help you out.
I've reached an age (ahem) where I don't keep up as much. So I have to rely on younger relatives to keep me "in the know." 🙂
Things I Wrestle With…
Pricing
I wish I could figure out the pricing sweet spot to maximize profits.
I've heard people say to price everything at $19.99, but I can't make myself do that. I do believe certain niches have price conscious buyers, so I do price low on occasion.
However, I'm a firm believer in pricing over $20 for designs that are very detailed or intricate. I have had no trouble getting them to sell for $22.
I have also been experimenting with pricing low to block people who create a very similar design and price several dollars lower. Over time, they can end up ranking better and selling more.
So I have priced 4 of my new Halloween designs lower than normal. I was one of the first to have this idea so they are ranking first at the moment because of the BSR.
So far it's working well, but it may be too early to tell.
I said I wasn't going to let this influence my pricing strategy.
Well I lied. 🙂
I certainly have, and I'm starting to see why some of the top-sellers are priced really low. If you can maintain that top ranking spot, you can earn more in the long run. The problem is, there's no way to really know for sure.
Some people may even be turned off by a lower price and think it's cheap.
Plus, all your referrals are not coming from search. Sometimes people are seeing your shirt as a recommendation during the checkout process. In other words, you aren't competing with anyone's price since Amazon is recommending it.
I may be overthinking all this.
Oh well. Won't be the first time. 🙂
Meeting My Daily Upload Limit
Six months ago I would have KILLED to have 20 uploads per day. Now I'm doing good to get 5 shirts uploaded per day.
I'm on the 1,000 tier and still only have 440 shirts uploaded.
Once you get on this tier it becomes more difficult to fill your slots if you aren't maxing out your uploads daily.
I don't like throwing up quick designs just to fill my slots. I put thought into my work.  Plus, it takes time to research keywords.
I cannot imagine what it must be like to be on the 8,000 tier. I don't typically outsource designs, but that may change if I ever make it there.
Standard vs. Premium Shirts
Do customers really notice premium vs. standard shirts?
Do they even care?
Plus, I HATE the thumbnail of the premium shirt. It looks droopy and cheaper than the standard shirt! 🙂
Someone mentioned they put their best sellers on both to fill up their slots. I get that, but outside of that strategy, it would be hard to know which shirt is "best". Sometimes it comes down to which shirt the customer sees first.
I'm probably overthinking this too. 🙂
I'm going to stick with the standard shirts for now because of the higher profit margins.
Anyway, it's been a fun 11 months. Looking forward to new rollouts such as hoodies, hats and more on Merch!
Here's to a fabulous 4th quarter!