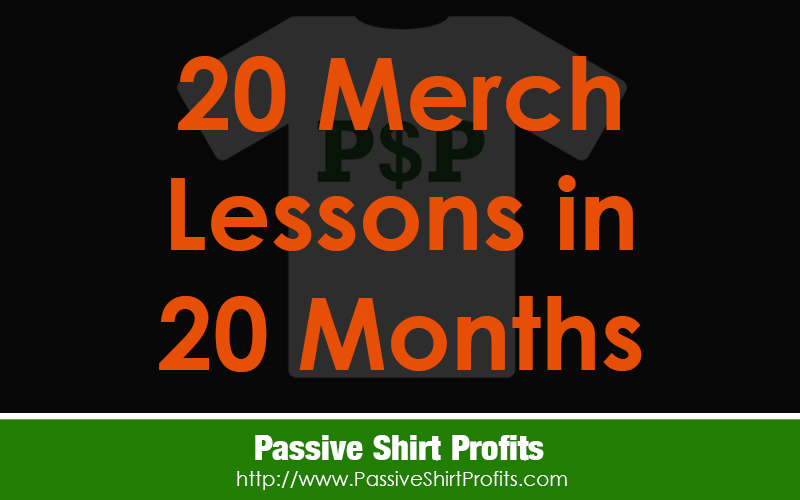 I just realized it's been a little over a year and a half since I joined Merch By Amazon!
Wow, time flies!
After selling close to 13,000 shirts, here are 20 lessons I've learned in 20 months…
Lesson #1: Here's What Customers Like
Based on many of my best sellers, I've found that customers love the following…
Distressed designs
Designs that show pride
Arched text over/under an image
Dark shirts
Big, bold designs that are easy to see
First-person statement tees
Lesson #2: It's Not About YOU. It's About The Customer.
One big mistake I see new Merch users make starts with their mindset. Get out of the habit of only focusing on what types of shirt YOU would buy.
I've heard people say…
"I can't believe people really buy Holiday shirts. I never do!"
It doesn't matter, what you buy. If customers are searching for it, that means they are buying it.
Believe it or not, some people have trouble creating shirts on subjects that don't interest them.
I'll also hear new people say something like…
"I am an Introvert, so I'm going to start designing Introvert shirts."
That's great, but if Introvert shirts aren't selling, then why are you designing introvert shirts?
There's nothing wrong with starting with what YOU love, but make sure there's demand before you waste time creating tees for an audience that isn't buying.
One of the BIGGEST mistakes many of my students admitted to making was not really paying attention to the demand data when doing research.
Lesson #3: Boilerplate Designs Are The Key to Selling More of Your Shirts
A boilerplate design is a concept or design that can be slightly modified to apply to many different broad topics and smaller niches.
The key is to pick the right keywords and being first to have a winning idea.
Let's say I have an original, funny nursing shirt that sells. I will immediately modify the design so it applies to many other professions.
It's a great way to fill your slots with design ideas that have a higher chance of selling. If a shirt idea sells well in 2 niches, chance are it will work for 5, 10 or 15 more.
This isn't always the case, so you have to experiment. But I have SEVERAL boilerplate designs that sell.
And it's really nice when you can create one for evergreen niches that sells all year long and not just for a holiday.
The key is creating a design that resonates with the audience and BE ORIGINAL. I cannot emphasize that last part enough!
Lesson #4: Can't Draw? Learn How to Trace!
No, I don't mean stealing and tracing copyrighted work. That's not cool and it's illegal.
YES. TRACING PICTURES FROM GOOGLE IMAGES OR ANY WEBSITE IS ILLEGAL.
I'm talking about tracing photos you take yourself or photos you KNOW you have rights to use.
For example, I needed a fist, but didn't want to use the free clipart fist that has been overused on Merch and other POD sites.
I took a picture of my own fist with my phone, traced it in Illustrator using a refurbished Wacom draw tablet (affiliate link) and saved it. Now I can re-use it over and over again.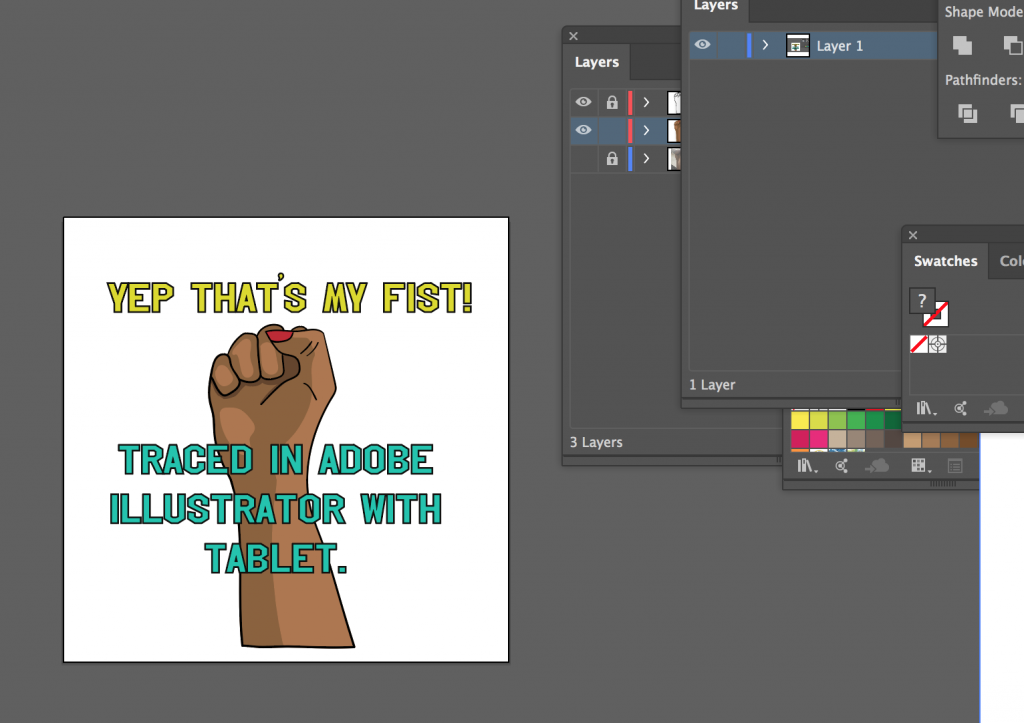 If you're enrolled in my Photoshop course, I will show you how to pull this off in Photoshop. Even though I use Illustrator for tracing, it's just as easy to do in Photoshop.
Even if you don't use either program, the steps are probably similar in your software. All you need is a program with a paintbrush tool, and most tools have one.
Tracing and even shading is much easier than you might think.
You also don't have to use a draw tablet. It just makes it easier than using a mouse.
Tracing is a GREAT option for people who cannot draw (like me!), but want a wider variety of images to use on their shirts. I no longer feel limited by my lack of drawing skills.
Just always make sure you have RIGHTS to use the image. Yes, even if you're tracing it.
Lesson #5: Don't Be Afraid To Price Above $20
I can see why some people price low. Some may want to protect their idea and prevent copycats from undercutting their prices.
Others are going for volume of sales so they can tier up.
I get that, but I have yet to see a reason to price most of my shirts low.
Obviously if it's for a young child, then you wouldn't charge $23 for it, but I learned right before the price increase that I was charging way too little for my designs.
That's another advantage of being one of the FIRST to have an idea. If there is no competition, you're not competing with anyone. So you might as well go for profit.
If your strategy is to copy and make variations of other's designs, you might feel that you have to price low to compete.
When you have original designs, you can sell at much higher prices. I've also found that the more niche or specialized the design is, the more I can charge.
Lesson #6: I Was Wrong For Ignoring Premium Shirts
Months ago, I mentioned I wasn't a fan of Premium shirts. I didn't care for the look of the shirt in the thumbnail, plus it has a lower profit margin.
However, one of my students mentioned how women love the premium shirt.  Plus, it's nice to have a Premium version out there if the Standard shirts go out of stock.
If I believe a shirt has a good chance of selling, I'll add a Standard and Premium version. In many cases, the Premium version has sold first.
Also, during Christmas 2017, I could tell Standard shirts were running out of stock because I started selling a lot more Premium shirts than normal.
Once again, don't be afraid to price high. I have sold premium shirts for $25.
Just remember that the Premium shirts fit VERY slim and customers never seem to read the note about that. So there is a higher risk of returns in my opinion.
Lesson #7: Be Strategic With Your Outsourcing
If you want to get the best bang for your buck with outsourcing, do your research FIRST and outsource images you can re-use for boilerplate designs.
Let's say you want to create a dabbing shirt, but you have no clue how to draw someone dabbing.
Hire someone to draw a silhouette of a person dabbing and then you can re-use that image over and over again in your boilerplate designs across numerous niches.
Of course, you would add text and any other elements for that particular niche to make the shirt fit that audience.
That's why it's so important to know what sells FIRST. Then you can be strategic about what you hire people to do.
I've seen people pay designers to create designs based on something they like, but they don't check demand on Amazon.
That's so backwards. Figure out what is in demand, THEN hire someone to create something targeting keywords that customers use.
Lesson #8: Don't Ignore Colors Because You Hate Them
I rarely chose Slate for my designs when I first started.
I personally think it's an ugly, drab color.
Well, it looks pretty good with a certain men's design I have out there, and it sells better than I would have thought.
Now I try to make sure I'm choosing colors that look good with the design, and not just colors I tend to like best.
This is a great example of how I was focusing too much on what I like and not what the customer might like.
Guys tend to like darker colors, so it makes sense that Slate would perform well on certain designs; especially if the design colors mix well with slate.
Lesson #9 – Double Check Your Spelling!
In April, I uploaded a very time-sensitive design and it sold right away.
Unfortuantely I was horrified to discover I spelled the largest and most important word incorrectly. Ugh!
Well, I removed it and the new upload never sold again. 🙁
If I had just taken an extra second to check everything, I would have prevented that.
Slow down and check your work. It's so easy to transpose letters or leave something out.
Lesson #10 – The Trends Are Your Friends!
So many of the best-selling Merch designs use pop culture trends and/or sayings that have been applied to niches.
The "Nailed It!" graduation shirt idea is a great example.
Pay attention to buzz words you hear or see on social media and TV. I capitalized on this BIG time last fall when a celebrity made a comment that became a hit!
I was one of the first people to upload a shirt on that keyword, and I have about 3 shirts still selling today.
Thinking quickly and acting swiftly is a big key with Merch!
For the record, I did not use the celebrity's name or likeness in the shirt or description, of course. I simply just used the saying.
Just keep in mind, that if a saying does become too popular then it might get trademarked later. You have to watch for that with pop culture sayings.
Lesson #11 – Be Honest With Yourself And Your Goals
Let's face it. We all have different Merch goals, life priorities and time commitments.
Some people join Merch for the full experience. They see it as an opportunity to learn design and perhaps diversify to other POD sites.
Others view it as nothing but a way to make some extra money on the side. They are not that interested in learning much about software, and don't want to spend lots of time on Merch.
For me, it was much bigger than just "making money with Amazon." I knew this would give me an opportunity to also diversify by teaching Merch, software and even improve my own skills.
Whatever the reason is, be honest with yourself about what you will make time to do.
If you know that you have no interest in learning software, then make plans to outsource your designs.
Don't frustrate yourself fiddling around in Illustrator if you know it's not your thing or you don't have time to learn.
Focus on learning the keyword part of Merch and let your designer do the rest.
There are plenty of people who are making money with POD outsourcing all their designs.
What's great about Merch, is there are several ways to approach it. Just be realistic and honest with yourself about the work and time you really want to invest.
I still don't think you need to be a great designer to make money with Merch, but I can see how the design quality has greatly improved since I joined.
If designing is not your thing and you don't want to learn, that's cool. Just position yourself to hire someone to help you.
But do your keyword research first. That way you're paying for a design that has a higher chance of selling.
Lesson #12 – Don't Expect Your Sales to Always Increase With Number of Uploads
You may not want to hear this, but it's true.
Merch can be unstable due to growth, technical issues and competition.
And if you can't handle that then Merch is NOT for you.
You have to go into this with a "side money" mentality.
So…
Don't quit (or plan to quit) your day job for Merch.
Don't always expect your income to grow every month, and
Be ready for a roller coaster ride with lots of turns
Having said that, I've still made more money in 2018 with Merch than some people will make all year in their 9 to 5.
I am soooo incredibly honored to be in this program, and I'm going to be here for the ride!
Never, ever would I have dreamed I'd be able to earn thousands every single month from T-shirt design and not have to pay anything but time to learn a few things.
It's a great opportunity, but you have to expect bumps along the way.
Lesson #13 – Most of Your Designs Won't Sell
Most people experience the 80/20 rule with Merch. Eighty percent of your Merch income will come from about 20% of your designs.
Obviously that will vary from account to account, but that's the general rule.
If you're impatient then Merch is not for you because it may take some time for you to figure out what sells.
When I joined in 2016 there were no upload limits. I must've swapped out a million designs (OK, not really but it felt like it.)
And when you have upload limits, it can take even longer since you have to ration your uploads. So hang in there and keep pushing!!
That's why it's more important than ever to understand keywords and demand. Otherwise you will waste a ton of time.
But don't let that 80/20 stat discourage you. One winning shirt can increase your monthly earnings by the thousands.
Trust me. It's happened to me a few times and it's sweet when it does!
Lesson #14 – Not All "Guru" Tips Are For Everyone
Just because a "guru" told you a tip worked for them, doesn't always mean it will work for you.
Merch results are very relative for a variety of reasons: timing, niche, design, etc.
It's OK to listen to other's tips and suggestions, and sometimes your results will align with theirs. Other times it won't.
I always go back to the bad "avoid Holidays" advice I received in 2016. Meanwhile holidays became my main strategy on Merch and a big part of my almost 13,000 shirt sales.
Keep an ear open for tips and advice, but don't be afraid to try things your way. That's the only way you'll truly learn.
Lesson #15 – Be Flexible
Recently I was asked "How many designs should I upload for a particular keyword or idea?"
That's hard to answer.
For me, it depends on my sale confidence.
If I already have a design concept selling in another niche, then I'm more confident it can sell in others. So I may upload more of that particular design than I would if the idea were brand new.
I try not to get caught up in rules and specifics for everything I do. Once you start selling, you'll get an idea for how much you want to upload.
I'm not a very detailed-oriented person, so I'm probably not the best one to give advice on an "upload system" when it comes to Merch.
I follow my gut on a lot of things, and just go with the flow! 🙂
Lesson #16 – Ideas Are Endless
What I love about Merch is that everyday news events can generate shirt sales.
As long as the news keeps happening, shirt ideas will be there for the taking.
I will never forget when a lady posted that she felt all the good ideas were taken for Merch.
She needed to broaden her thinking.
I am willing to bet she was focusing too much on what people had already uploaded instead of what else she could be creating.
You have to realize that there are dozen and dozens of topics, niches and sub niches that exist.
And as the days go by, pop culture and news events will always inspire shirt ideas we can target.
If you run out of keywords to target, check out the news and what's trending on Twitter. That can help inspire a multitude of ideas.
Merch is, without a doubt, a creative exercise. And once you learn how to mix that creativity with relevant keywords, it will help you tremendously.
Lesson #17 – Having Slots is Overrated When You Get to Higher Tiers
I really don't care about getting to the 10K tier unless I can fill my slots with shirts that have a high chance of selling.
A lot of people on very high tiers flood their slots just to tier up.
Just from comparing their numbers to mine in various groups, I've noticed my earnings per number of uploads seems to be higher than most.
I am currently earning more with 900 uploads than a guy who said he has 6,000 uploaded.
So what's my secret, you ask?
It's no secret.
It's those original boilerplate designs. Once my first shirt sells in a series, I'll create a variation for another niche as I've described before.
That strategy has really helped me sell a higher percentage of my designs because I'm filling slots with my original and proven ideas that are already working for me.
Being first to have a winning idea is EVERYTHING with Merch!
So far my best month was $10,000 in royalties with 600-700 slots filled. (Yes you can see a live video and screen refresh of my earnings here.)
That was February 2018.  (And for the record, I haven't hit that mark since.) 🙂
It's important to note that most of those earnings that month came from a small percentage of my total uploads and were also time-sensitive.
It's now June and I only have 900 of my 2K slots filled. I'm in no rush to fill them because I focus on quality over quantity.
That's why I'm still on the 2,000 tier even though I've sold 6 times more than my tier. They don't normally tier you up to the higher tiers until you've filled up most of your slots.
Anyway, I'd much rather sell a higher percentage of my designs on a lower tier than a lower percentage on a higher tier.
I never come close to hitting my 200 daily upload limit and will never try. If I upload 20 new designs in a day, that's a heavy day for me.
Lesson #18 – Stop Comparing!
People seem to be obsessed with comparing their numbers to others, but it's absolutely pointless.
If I tell you I made $5,000 with 800 uploads, you have no idea of the sales breakdown or keywords.
What if 80% of that income came from one shirt? Take that one shirt out the equation, and the earnings would have only been $1,000.
That's a HUGE difference and it's all because of one shirt.
How much you make per upload has so many different variables, and it's impossible to compare or estimate what you will make.
Like I said above, my ratio of upload to earnings tends to be higher than what I've seen people post, BUT I have a handful of consistent sellers that have been doing VERY well for a long period of time.
So those shirts help make my totals look better than someone who doesn't have a lot of consistent sellers. Take those out the equation, and my earnings would be drastically lower.
It's impossible to compare what you will make with a certain amount of uploads. Everyone's numbers will vary greatly!
Lesson #19 – Exploit Your Successful Keywords
Any time a shirt sells with a new keyword you've researched, look to see if you can capitalize on this keyword by creating more variations of that design with different but similar keywords.
This is not the same as the boilerplate designs because these shirts are all for the same niche and may show up in search with related keywords.
When creating your variations, you don't want to deviate too far from the original design because it's already a proven seller, BUT you don't want it to look like a replica either.
I do believe Amazon's algorithm is starting to favor design variety more and more.
I don't see nearly as many duplicate designs in a row like I did when I first joined. Plus, they have openly stated they have some sort of copy detection software.
Of course, that was put in place to target copycats, BUT I still don't think they want tons of replicas of the same design, even if they're your own.
And that makes sense. It looks awful from a customer's viewpoint when they see 3 rows of the same or similar shirt for one keyword search.
So it can get tricky doing this.
When I create my variations, I want the basic design concept to be the same since I know it already sold, but different enough so it doesn't look like a replica.
The point of this is to dominate the "keyword family" with this winning design idea, but create as much variety as you can without deviating too far from the winning concept that sold.
It's also a defensive play because it's only a matter of time before the copycats do the same and create close or similar variations. So you might as well beat them to the punch.
Obviously it's best to do this when you're on a higher tier because it can use up more slots.
Lesson #20 – I Believe Merch Rotates Designs More Frequently Now
There's been a lot of speculation about a new algorithm for Merch By Amazon in 2018. I cannot confirm anything, and no one really can unless they work for Amazon.
However, based on sales patterns of my best sellers, something has definitely changed.
For example, I have a shirt that sold 10-15/day consistently for months. Today it may sell 10 in a day and have 0 sales the next day and then a handful of sales the following day.
I believe they are rotating designs more and more simply due to competition. If they don't do this, how will the new shirts ever get found?
So how this affects you will really depend on where you are with your journey.
Many established sellers don't like it because their long-time sellers aren't selling as well. However, for new sellers, it gives your shirts a chance to get found.
In a sense, it levels the playing field a bit.
It also inspires me to keep thinking of fresh, new ideas so I can stay competitive.
I've had no problem getting new designs to sell since I've been in Merch, and that falls in line with the rotation theory.
At the end of the day, Amazon wants a fresh, competitive marketplace. They don't really care about your earnings on an individual level.
They just want a diverse portfolio of shirts for their customers to choose from.
That's why they keep adding people to the program and tiering them up quicker than they used to. Design competition only helps their marketplace in the end.
————————-
So there you have it! Those are my 20 lessons in 20 months!